Are you looking for a rewarding career in the medical field? Do you have a passion for working with patients on their health goals and providing necessary medical and preventative care?
If so, then a career as a phlebotomist may be right for you.
Phlebotomists are medical technicians who work primarily with blood: drawing blood samples, preparing specimens for medical testing, and blood donations.
Phlebotomists must create a trusting atmosphere and confidence while drawing blood in a safe and skillful manner.
As a phlebotomist, you will learn how to properly draw blood and abide by any safety protocols.
Phlebotomists also learn how to interact with patients and how to handle hazardous biological materials like needles and blood samples.
If you would like to become a phlebotomist, read on.
What is a Phlebotomist?
Phlebotomists or phlebotomy technicians as they are also called work in the medical profession and their primary task is to draw blood from patients.
If you're looking into how to become a phlebotomist there are a few things you need to be aware of, all of which I will be covering in this article.
Being a phlebotomist, as with any role in the health profession can be incredibly rewarding. Helping patients on a daily basis does take a certain type of person, but if you're ok with needles and have a desire to help others it may just be the perfect profession for you.
There are a few roads into this profession. I will cover the academic requirements, desirable skills that will help you in this profession, and everything you need to know about the role.
What Does a Phlebotomist Do?
Phlebotomists draw blood from patients. This means inserting a needle into a vein, usually in the arm or wrist. So not being squeamish at the sight of needles or blood is vitally important. They work with other medical professionals such as doctors and physicians and will draw blood on their referrals.
The most popular working locations are hospitals, private clinics, nursing homes, and laboratories. The blood is drawn into vials and passed on to laboratories to be tested for health issues.Other duties of a phlebotomist include updating medical records, labeling vials, sending vials off, keeping their work environment clean and well organized, and communicating with other healthcare professionals.
Key Duties of a Phlebotomist
Desirable Skills of a Phlebotomist
Becoming a phlebotomist is often a career that people with a desire to help others is attracted too. Anyone can quality and do the role however, here are some desirable skills that will help you progress and get the most from this profession:
Great Communication Skills
As a phlebotomist, you will be dealing with patients of all ages and backgrounds on a daily basis, as well as communicating with healthcare professionals. You will need to help some patients feel comfortable by explaining the process of drawing blood. As well as communicating with colleagues in a professional manner.
Being Organized Under Pressure
Keeping medical records up-to-date and accurate is a vital part of the role. As well as organizing your own working environment to ensure you do not lose or contaminate any medical equipment. Working in a busy hospital can be busy and stressful, mistakes can be very costly so being able to operate under pressure is a huge advantage.
An Eye for Detail and Accuracy
Both drawing blood and maintaining the paperwork and computerized records requires a high-degree of accuracy and an attention to detail. Mistakes can be costly, both financially, and have health complications.
Caring Nature
While it's not necessary, it's certainly beneficial if you are naturally caring and compassionate. You will see patients with all kinds of medical conditions, some terminal, some difficult to look at.
Reliable and Timely Team Player
It's not easy for other staff to fill in for a phlebotomist that is late or absent. A lot of patients are relying on you, so the less absent time the more efficient the whole medical team will be operating and the higher level of care the patients will receive.
Average phlebotomy technician salary is .
Phlebotomist Work Environment
A large percentage of phlebotomists are employed by state, local, and private hospitals.
Many phlebotomists are also employed in medical and diagnostic labs, physician offices, and outpatient care centers.
Phlebotomists who work in blood donation centers must frequently travel to different blood banks and set up mobile donation centers, so the job potential involves a fair amount of travel.
Some phlebotomists work in long term patient care facilities or patients' homes.
Being a phlebotomist involves long periods of standing.
Phlebotomists are also at risk of exposure from blood-borne pathogens and also at risk from injury due to the improper handling of medical equipment.
There is a massive amount of important medical information that can be gained through the analysis of blood and phlebotomist are vital to the success of these analytic and diagnostic processes.
Phlebotomist Education Requirements
Being a phlebotomist does not require a specific college degree, but does require certification from a phlebotomist training program.
Phlebotomist training programs involve both in-class instruction and clinical practice.
These programs can be finished in as little as 8 weeks but normally take just under a year.
In general, there are no associate's or bachelor's degrees in phlebotomy specifically, but many phlebotomists have degrees in a different field.
A few states require phlebotomist to be state certified to work but other states have no licensing requirements.
Make sure to check with the occupational licensing or health department of your state to figure out any licensing requirements.
Although not legally required, many phlebotomists become certified through the American Society of Clinical Pathologists, the American Medical Technologists (AMT), or the American Association of Medical Personnel.
Certification by the organization generally requires students to have graduated from an acceptable training program, have completed at least 1,040 hours of work experience, and complete a certification exam.
Employers tend to favor applicants who are nationally certified by one of these organizations.
Accreditation
High-quality phlebotomist training programs are formally recognized by the National Accrediting Agency for Clinical Laboratory Sciences (NAACLS).
Attending an accredited program signifies to employers that you have a solid grasp on the fundamentals of phlebotomy and have training consummate with nationally recognized educational standards.
While generally not required to land a job, attending an accredited phlebotomy training program could mean the difference between a lower-paying position and a higher paying one.
Some states, such as California for example, require phlebotomists to graduate from an accredited phlebotomy training program.
What You'll Study
The general structure for phlebotomy training courses involve both in-class instruction and clinical practice.
These programs emphasize the proper method for collecting and handling blood samples, basic diagnostic techniques using blood, and how to operate blood analysis technology like a centrifuge.
These programs also instruct students on regulation surrounding the handling of hazardous material as well as strategies for interacting with patients.
Many certificate programs also incorporate basic courses in the medical sciences like anatomy/physiology and pharmacology.
Basic techniques covered in phlebotomy programs include venipuncture, skin puncture techniques, safety procedures, and blood technology operation.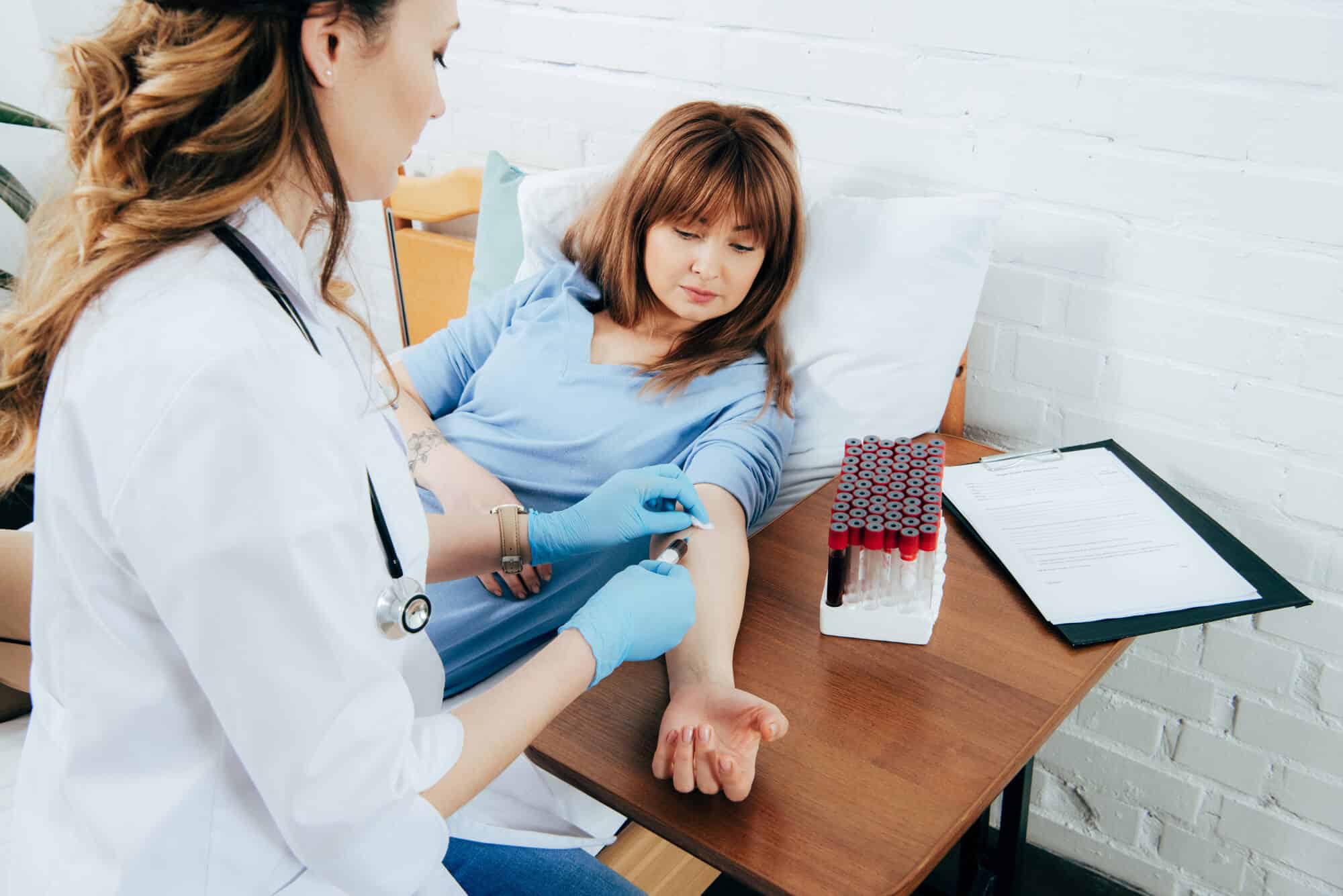 Training Information & Types of Phlebotomist Degrees
The only real degree for phlebotomists is a certificate in phlebotomist technologies.
The length of these programs varies by the institution but normally takes around a year to complete.
These training programs involve theoretical and clinical components and most of the time incorporate an externship where students practice on mannequins and live subjects, usually their classmates.
Another option for potential phlebotomists is to pursue an associate's or bachelor's degree in medical technologies.
These programs focus on training students to work in a wide variety of medical labs, including blood collection and analysis.
These degree programs also cover medical management and professional skills.
A degree in medical technologies will not only qualify you to work as a phlebotomist but also in a wide variety of medical labs.
Option 1: Phlebotomist Certificate
Phlebotomy training programs are offered at community colleges, technical colleges, and vocational schools.
The basic curriculum for these training courses covers info about patient care, anatomy, disease control, and how to operate medical testing equipment.
Students are also trained in the different types of needles used for gathering blood and proper needle insertion.
Admission Requirements
Most phlebotomist programs only require applicants to have a high school diploma or GED.
Some programs may require applicants to have previous experience working in the medical field or certain college prerequisites.
You may also be required to submit to a criminal background check and drug screening to be admitted.
Courses
Phlebotomy certificate training courses cover the basics of drawing blood and preparing samples for analysis.
A hypothetical curriculum might include such courses as:
Medical terminology
Anatomy
Phlebotomy equipment and supplies
Phlebotomy procedures
Infection and disease control
Phlebotomy technician training courses tend to be very focused and do not incorporate core college courses. Some programs may include the more humanistic side of the medical field, including classes in medical ethics and patient interaction.
Option 2: Medical Technologies Associate's Degree
Another education option for potential phlebotomists is to pursue a degree in medical technologies.
Medical technologist degrees are normally required for people who want to work in medical labs and are a good way for potential phlebotomists to get the training they need. Along with phlebotomy techniques, a medical technologies program will train students on various different lab procedures including microscopic analysis and fluid analysis.
Those who hold an associate's degree in medical technologies will not only be qualified to work as a phlebotomist but also as an entry level tech in a general medical lab. As such, a degree in medical technologies is a great idea for people who want to work as a phlebotomist but want to keep their options open for future career moves.
These programs normally take about 2 years to complete.
Admission Requirements
The admission requirements for medical technologies associate's degrees differs depending on the program.
At the very least you must have a high school diploma or GED.
Some programs prefer candidates to have some prior experience working in the medical field.
Many programs also require letters of recommendation, a personal statement, and possible standardized test scores (ACT or SAT).
Courses
Medical technology courses are aimed at giving students basic instruction in medical lab procedures and basic theories of medical pathology, diagnostics, and analysis.
Associate's level programs often incorporate liberal arts course like English and sociology to give students a well-rounded education.
Some potential courses may include:
Hematology
Medical lab procedures
Medical terminology
Microbiology
Immunology
Phlebotomy
Clinical chemistry
The basic point of medical technologies degrees is to equip students to assist in general medical lab procedures.
As such, they will learn the basics to work as a phlebotomist as well as in other medical technician professions.
Option 3: Medical Technologies Bachelor's Degree
A bachelor's degree in medical technologies takes about 4 years to complete and covers both the fundamentals of medical technologies as well as higher-level topics like management and leadership.
Many people pursuing a bachelor's in medical technologies currently work as medical technicians in some field and are looking to further train themselves for career advancement.
Many of these programs let students pick specializations such as public health or biotechnology.
Admission Requirements
The admission requirements for a bachelor's level program in medical technologies require students to have a high school diploma or GED.
Frequently, these programs require students to have an associate's degree in the field or previous experience working as a lab technologist.
They also may require applicants to pass a criminal background check and drug screening.
Courses
The courses is a bachelor's level medical technologies program are largely the same as those in an associate's level course but to a greater degree of sophistication and complexity.
Some potential courses could be:
Genetics
Molecular biology
Biostatistics
Mycology
Health care ethics
These programs often let students pick elective to become specialized in a particular area of study.
Online Phlebotomy Programs
There are several accredited online phlebotomist programs that will prepare you to work in the field.
Online programs tend to be less expensive than in-person programs and can often be taken on a part-time schedule.
When choosing an online program, it is imperative to pick a program that has some kind of hands-on module, especially for those who have no previous experience in the medical field.
This is very important because professional certification requires a certain amount of clinical practice hours.
How to Get Your Phlebotomist Certification
Currently, only California, Nevada, Washington, and Louisiana require phlebotomists to be licensed.
However, getting your phlebotomist license or certification signals to employers that your education has met requirements laid down by the respective certification bodies.
The 5 widely recognized organization through which you can get your phlebotomy certification are
American Society for Clinical Pathology
American Society of Phlebotomist Technicians
National Phlebotomy Association
National Healthcare Association
National Center for Competency Training
Some of these organizations require certification applicants to have completed a NAACLS-approved training program and have at least one year of professional experience in an accredited lab.
Each organization also has requirements for courses you must take during your training. And a specific examination you must pass.
Again, except for a handful of states, you do not have to have phlebotomist certification to legally work but it makes finding a job much easier.
Some employers may require applicants to have their phlebotomist certification.
Certification Renewal
If you do opt to get your phlebotomist certification, you will be required to periodically renew said certification.
Most certification organizations require certificate holders to complete some set amount of continuing education courses.
For example, California requires phlebotomists to renew their certification every 2 years and for certificate holders to complete a total of 6 hours of continuing education credits.
5 Easy Steps to Become a Phlebotomist
Let's go over the basic steps towards becoming a phlebotomist.
Step 1. Get your high school diploma or GED
Entering a phlebotomy school is achievable for most, but you need to be at least 18 years old and have a high school diploma or something equivalent, like a GED.
There are no specific grade requirements, but having good grades in biology and chemistry will put you ahead of the competition.
Step 2. Complete a certificate training program
The first step is to complete a phlebotomist certificate training program.
These programs will train students on the basic skills and techniques used in phlebotomy labs and the basic operations of a medical office.
Step 3. Acquire certification (optional)
The next step is to acquire certification. While this step is not mandatory in most states, getting your phlebotomist certification is a way to make you stand out among other job candidates. Some states require phlebotomists to receive their certification.
Step 4. Find a job
The next step is to scour the job market for employment opportunities. Employers favor candidates who have completed both a certificate program and have acquired their certification.
Step 5. Maintain/renew your certification
If you do opt to get your certification you will be required to periodically renew it and maintain your license with continuing education credits. The exact renewal process differs depending on the organization you received your certification from.
Phlebotomist Job Growth, Salary & Outlook
Phlebotomists face good starting careers and excellent potential for career growth.
The median annual salary for phlebotomists in 2018 was $34,480 ($16.58/hour) and the career field is expected to grow by 25% from 2016 to 2026, much faster than average.
Phlebotomists employed at outpatient care centers have the highest annual salaries with an average of $36,420.
How Much Does It Cost to Become a Phlebotomist?
Becoming a phlebotomist is relatively cheap.
The average certificate training program costs between $700 and $1,400.
Online programs can cost as little as $300.
An associates degree in medical technologies costs an average of $30,000 for 6 semesters of coursework, one of which focuses on phlebotomy.
How Long Does It Take to Become a Phlebotomist?
You can start working as a phlebotomist in as little as a year, potentially earlier depending on how quickly you complete your training program.
Factoring a month or two to study for certification exams and for job searching, you can start working as a professional phlebotomist in as little as a year to year and a half.
Associations, Groups & Resources for Phlebotomists
Frequently Asked Questions
Becoming a certified phlebotomist involves passing an examination set down by one of the 5 nationally recognized phlebotomist associations. Certification is not legally required to work (except in a handful of states) but employers favor candidates who hold their certification.
The majority of phlebotomists are employed at a local private or governmental hospital. Phlebotomists also work in clinical research labs, blood banks, health clinics, outpatient facilities, schools, prisons, and more. Basically, anywhere where there are basic medical procedures going on, a phlebotomist is needed.
A phlebotomist technician is an individual who is trained in the collection and analysis of blood samples. Phlebotomists are trained on how to draw blood from patients, run basic diagnostic and analysis procedures on samples, and the handling and removal of harmful biological materials like blood and used needles.
Phlebotomist Training Video