There has never been a better time to pursue a career as a phlebotomist.
According to the Bureau of Labor Statistics, the field of phlebotomy is projected to grow by 23% from 2018-2028. The median 2018 salary for phlebotomists was $34,480 and phlebotomists face numerous avenues for career growth. 
Of course, you will need to get some formal training to be a phlebotomist. Unfortunately for many people, going back to a traditional program full-time is just not a feasible option. 
That is why several institutions offer online phlebotomist training programs.
These programs are either mostly or fully online and let students pursue the course at more or less their own schedule. 
We are going to cover the basics of online phlebotomist training programs and offer an overview of some popular programs.
We will also cover the cost, how long it takes to complete an online program, and what kind of job prospects new phlebotomist grads can expect to get. 
Phlebotomists are medical professionals who specialize in drawing and preparing blood samples for lab tests.
As such, the basic phlebotomist training courses cover the basics of medical science and basic skills in drawing blood.
Phlebotomists will learn the basics about human anatomy and practice their lab skills, which includes things like drawing blood, processing samples, and handling hazardous biological substances. 
While online phlebotomist programs can be completed mostly from a distance and at your own time, all reputable online phlebotomist programs include some in-person requirements.
Given that phlebotomy is a technical discipline, you will be required to get clinical experience in order to get your phlebotomist license later down the road.
Most online programs require students to get an internship or externship. Some programs will help place their students with these internships.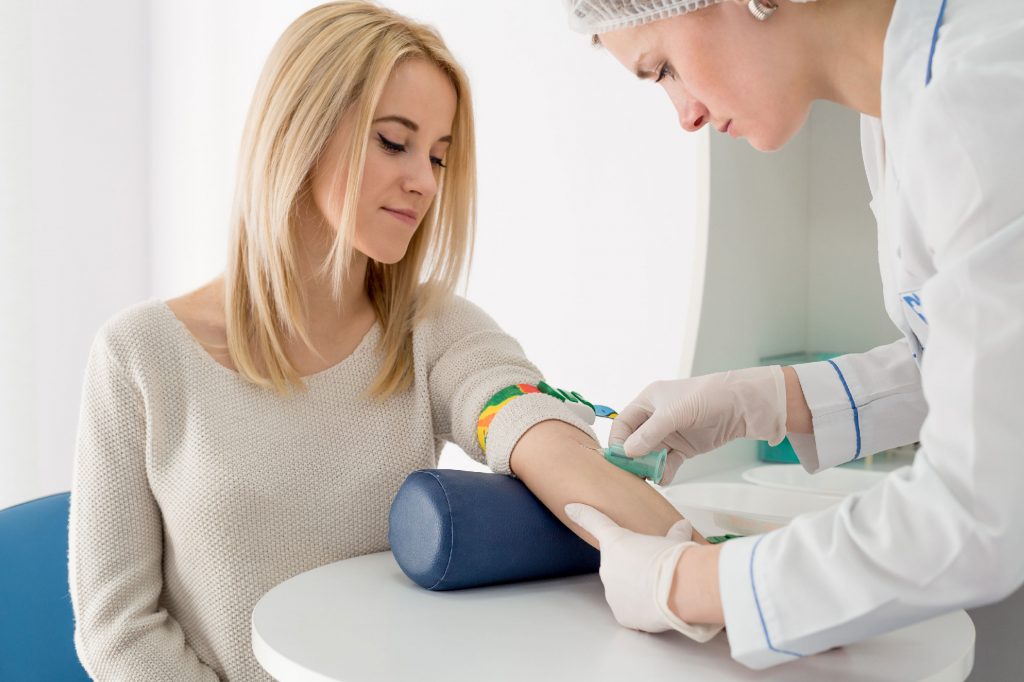 Phlebotomist training programs often do not have distinct individual classes like you would find in a traditional college program.
Rather, they usually consist of units that cover a range of things at once. Here are some common topics that you will cover in an online phlebotomist program:
Medical terminology
Anatomy/physiology
Bloodborne diseases
Pediatric and geriatric care
CPR and first aid
Technical lab skills (drawing blood, processing samples, operating lab equipment, etc.)
Professional development and healthcare administration
The Red Cross Phlebotomy Training
One of the more popular online phlebotomy programs is run by the Red Cross.
The Red Cross phlebotomy training program involves 80 hours of instruction and graduates of the program will be eligible to sit for the National Healthcareer Association (NHA) phlebotomist exam.
The 80 hours are split into two parts, 40 hours of in-class instruction and 40 hours of hands-on practice. 
The first part of the program includes coursework and covers topics such as
Bodily systems

Human anatomy

Collecting, processing, and transporting blood

Transporting blood

Blood-borne illnesses

CDC safety regulations
Once you have completed your course work, you will move on to hands-on clinical rotations where you will practice your techniques.
You will perform your clinical rotations in a physical setting under the supervision of an approved phlebotomist. 
Applicants to the Red Cross phlebotomy training program must be at least 18 years of age and must have a high school diploma or GED.
Applicants must also complete a criminal background check, pass a drug screening, provide vaccination records, pass a physical examination, and pass a TB test. 
That is a lot of prerequisites that other schools do not have, though having the Red Cross on your resume will make you appear more reliable and skilled to employers.
The cost of the Red Cross phlebotomist training program is $965 for the entire course.
Phlebotomy Training Center Program
The online program at the Phlebotomy Training Center consists of 70 hours of in-class instruction plus hours for clinical rotations.
The phlebotomy training program is accredited by the National Center for Competency Training and is an employment partner with the Red Cross.
The online program at the Phlebotomy Training Program costs $500 and can be completed in as little as a year. 
In the program, students will learn proper phlebotomy techniques and how to work blood collection and analysis equipment such as syringes, vacuum collection devices, and centrifuges.
Students will also learn how to navigate the regulatory and legal landscape of working in the healthcare industry. 
This training program gives students access to unlimited online course materials and prepares students for the National Certification Exam. They will even help you fix up your resume to help you find jobs when you graduate.
University of Alaska Phlebotomy Training Program
The University of Alaska offers one of the best phlebotomy programs in the country and has in-person and online curricula to choose from.
The program takes a full year to complete and consists of a two-part training course.
The first part is in-class instruction while the second part consists of clinical rotations.
Graduates from the program will be eligible to sit for the national phlebotomist licensing exam.
Applicants to the program are required to be at least 18 years old and hold a high school diploma or GED.
There are no minimum GPA requirements and you do not have to send in any test scores. The average cost of the program for in-state residents is around $1,728 and the average costs for out of state students is around $6,000.
As such, this program is a good deal more expensive than a lot of other online programs but it is one of the best phlebotomy training courses in the country.
University of Tennessee-Martin Phlebotomy Training Program
The online phlebotomy program at the University of Tennessee-Martin is a comprehensive phlebotomy training course that can be completed in about a year.
The average tuition cost for this program is $1,299 which includes course materials and internship/externship programs. Students in the program will be prepared to take national certification exams.
The curriculum of the program includes 50+ hours of in-class instruction and a separate unit of clinical practice. 
Applicants to the phlebotomy program at the University of Tennessee-Martin must have a high school diploma or GED. Topics covered in the program include the history of the phlebotomist discipline, legal issues relating to healthcare providers, proper phlebotomist techniques, and proper safety protocols for transporting and disposing of biological waste. 
The online module for the program includes 24/7 instructor support, interactive online modules for the various topics, animated simulations, and practice exams for the national certification exam.
The program also gives students access to a career portal where they can receive career guidance, help to create their resumes, and other career resources. 
Career Step Phlebotomist Training Program
The Career Step phlebotomist training program is a 100% online phlebotomy program that can be completed in as little as 3 months.
The program consists of 57 hours of in-class training and a separate unit of clinical practice.
The online format lets you pursue the program on your own schedule and includes courses, lectures, learning games, and interactive simulations to help you learn.
The cost of the program is a reasonable $899 which includes educational materials. 
Graduates of the course will be qualified to take the Certified Phlebotomy Technician Exam (CPT).
Participants in the course must have a computer running at least Windows XP and have access to Adobe Flash Player and Mozilla Firefox v. 3.x or higher. 
What Is the Cost of the Training?
The average cost of an online phlebotomy program in the US is usually between $300-$700.
The average cost of an in-person phlebotomist program at a university in the US is between $700-$1,200. These tuition costs may or may not cover books and other course materials you will need.
Many states do not require phlebotomists to be licensed or certified. For example, in Missouri, phlebotomists are not required to have a license.
Even if you are in a state where certification is not required, it is a good idea to pursue phlebotomist certification as that will make you a more attractive candidate to employers. Certification costs around $50 to pursue.
How Long Is Phlebotomy Training?
Most online programs in phlebotomy take anywhere between 6-12 months to complete, depending on whether you are a full-time or part-time student.
A handful of programs may let you complete the program in as little as 1-3 months.
Many online programs will require you to complete a predetermined amount of clinical hours before you can graduate. 
Factoring in a few months to study for certification exams and to find a job, you could start working as a professional phlebotomist in as little as 6 months to a year.
How to Choose the Right Training Program?
Phlebotomist programs are offered at various institutions, including technical colleges, vocational schools, and traditional 4-year universities.
Online programs give students more flexibility with their schedules and let at-distance learners take the course at their own pace.
No matter which online program you choose, it should definitely be an accredited program. Phlebotomy programs in the US are accredited by the National Phlebotomy Association (NPA) and meet certain guidelines for professional phlebotomy training programs.
While you are not required to attend an accredited program to get a job as a phlebotomist, employers tend to favor applicants who have.
Also, you should make sure your chosen program has channels to help you find in-person training. Many online programs have local networks of phlebotomists that you can train under to get your practical experience to graduate from the program.
It is possible to find these internships entirely on your own, but it will be much easier if your program has channels to help you out. In general, the more required clinical hours, the better the program.
It also helps if your online program has job-placement options for after you graduate. Reputable online programs will have a large professional network to place graduates with jobs. These connections can cover some of the biggest employers in the field.
Who Can Start the Red Cross Phlebotomy Program?
Anyone can apply to the Red Cross online phlebotomy training program provided they are at least 18 years of age and have a high school diploma or GED.
Applicants to the Red Cross program must also pass a criminal background check, drug screenings, and provide vaccination records.
What Career Opportunities Does a Phlebotomist Technician Have?
Given how quickly the healthcare field is growing, phlebotomists have a lot of opportunities to find jobs and to pursue career advancement.
At the basic level, education in an online phlebotomy program will prepare you for a job as a phlebotomist technician.
The majority of phlebotomist technicians are employed in local hospitals and diagnostic laboratories.
A smaller percentage work in physician offices, outpatient care services, and other ambulatory healthcare services.
Many who hold phlebotomist certification eventually move on to become medical assistants, general lab technicians, LPNs, or RNs.
Each of these career paths requires similar training to a phlebotomist so it is relatively easy to transition from one field or another.
Each of these careers requires a bit more education but a phlebotomy education will put you on the right path.
Medical lab technicians draw blood like phlebotomists but also test and analyze it. You must have an associate's or bachelor's degree to work as a medical lab technician.
Medical assistants perform a more hands-on role and assist doctors and other healthcare practitioners care for patients.
LPNs and RNs are registered nurses. LPNs and RNs deal with blood but also handle a wider range of patient care services. Becoming an LPN takes about 2 years of schooling while becoming an RN takes around 3-4 years.
Phlebotomy is an up-and-coming profession that is poised to see great growth in the coming years. Thanks to the internet, getting the education you need to become a phlebotomist is easier than ever.
Depending on the program you pick, you can start working as a phlebotomist technician in as little as 6 months!
So what are you waiting for? You are not getting any younger so apply to a phlebotomist program today!