Read on to figure out what steps to take to begin your career as a massage therapist.
Massage therapists play an important role in providing excellent relaxation treatments for clients. From rehab for back injuries to an increase in psychological well-being, massage therapists bring the possibility of full body relaxation to countless people.
If you have a passion for working with others, giving excellent customer service, and are looking for work in a high-demand field, then a career as a massage therapist may be right for you.
Today's modern world is incredibly fast-paced. In our high octane society, relaxation treatments are more popular than ever.
Anyone who has gotten a massage before can tell you that a good massage is a rejuvenating experience, akin to a long night's good sleep.
In addition to being relaxing, a good massage can have therapeutic benefits.
Becoming a Massage Therapist
Massage Therapist Education Requirements
Being a massage therapist requires a postsecondary degree award, normally in the form of a certificate or associate's degree.
The amount of time required for educational programs are typical for the kind of degree; 1 year for a certificate and 2 years for an associate's degree.
Some massage therapy programs confer bachelor's degrees, though this is not the norm and a bachelor's degree is not required to get a job in the field.
As of 2014, 45 states regulate the activity of massage therapists. Most of these states require massage therapists to complete a training program, pass a license examination, and renew their license every 4 years.
The two main licensing exams used are the National Certification Examination for Therapeutic Massage and Bodywork (NCETMB) and the Massage and Bodywork Licensing Examination (MBLEx). Some states have their own licensing examination.
Optional: High School Requirements
Science and Math Classes
While it is not so obvious that you should take math and science classes it is really important to do so. When you join a training program after high school the vast majority of the classes will be anatomy physiology and other related classes that are based in math and science. Also math and science classes are the classes that most colleges recommend to their prospect students.
Anatomy and Physiology
These classes are obviously really important and highly recommended to if available. You will learn about the human body and its functions that will be the core of your profession. Even massage therapists that are entering the business should have a great knowledge of anatomy because it will make them able to satisfy their clients without injuring them.
Psychology
Another important class massage therapists should take is psychology. Massage therapists are dealing with clients that are in pain and looking for a solution to this. Knowing the human psychology and how to communicate with people in certain difficult situations will help the stand out of the competition and gain loyal clients.
Accreditation
The US Department of Education recognizes several accrediting bodies for programs in massage therapy, including the Commission on Massage Therapy Accreditation (COMTA), the National Accrediting Commission of Arts and Sciences (NACCAS), the Accrediting Commission of Career Schools and Colleges (ACCSC), and the Accrediting Bureau of Health Education Schools (ABHES).
Accredited programs feature a high-quality curriculum that is developed and updated by professionals in the field.
Accredited schools also tend to have full services for the students, including on the job training and career services.
Accredited programs also may be eligible for federal financial aid. Employers and clients tend to favor massage therapists with credentials from accredited programs.
What You'll Study
Massage therapy courses are very focused and aim to teach the fundamentals of the theory and practice of therapeutic massage.
Far from being a "soft" discipline, massage therapists are required to follow a curriculum that incorporates the sciences, medicine, and business.
Massage therapists are extremely familiar with human anatomy/physiology and many massage therapists are trained in clinical psychology so they can treat psychological issues with massages, further, massage therapists take business courses so they can learn self-management and how to run their own salon.
Of course, massage therapy programs teach students therapeutic massage techniques and related issues like reflexology and kinesiology. There are many different modalities of massage therapy techniques so there are many different career paths to follow.
Training Information & Types of Massage Therapy Degrees
The two major kinds of degrees for massage therapists are certificate programs and associate's level programs.
Nearly every state requires massage therapists to have a formal education.
Certificate programs focus on training students to pass any licensing exams while associate's degree programs serve largely the same purpose but also train students in the more technical and mechanical aspects of massage therapy.
Many people who pursue an associate's degree in massage therapy are current professionals who want to go back to school to increase their employment prospects.
Although the degree requirements differ from each other, most programs require about 500 collective hours of coursework and practical experience to graduate.
Option 1: Massage Therapy Certificate
The most basic educational option for prospective massage therapists is to complete a certificate program.
Certificate programs for massage therapy are offered at technical colleges, vocational schools, community colleges, and traditional universities.
Certificate programs seek to train students on the fundamentals of massage therapy, the basics of self-management and prepare them to pass any state licensing exams.
A normal certificate program takes about 1 year to complete, potentially longer is you study primarily part-time.
Many certificate programs require students to attend full-time.
Courses also involve practical labs where students get to practice massage therapy techniques on mannequins and actual clients.
Admission Requirements
Certificate programs typically require applicants to hold at least a high school diploma or GED.
Many certificate programs also require an in-person interview with the program director. You may also be required to submit to a criminal background check and send in letters of recommendation.
The exact admission process differs depending on the program so make sure to check with your prospective school for all admission requirements.
Courses
Students in massage therapy certificate programs take a battery of courses focusing on massage techniques, medical terminology, mental health and well-being, and business management.
A hypothetical course load for a semester of a certificate program may look like:
Structural Anatomy/Physiology
Principles of Massage Therapy
Essentials of Massage Application
Physiology of Wellness
Pathology and Massage
In short, these courses give practical instruction for massage techniques and focus on the connection between mind and body and how massage techniques can be used to treat physical and psychological issues.
Option 2: Massage Therapy Associate's Degree
The other option for prospective massage therapists is to complete an associate's level program.
Associate's programs cover the basics of massage theory and techniques and often incorporate instruction of various different massage modalities like aromatherapy, deep-tissue massage, and prenatal massages. These programs also involve core college courses such as English and sociology.
Many students enrolled in associate's programs are current massage therapists and many who complete an associate's degree go on to earn a bachelor's degree and specialize in a particular massage modality.
The typical associate's level program in massage therapy takes around 2 years to complete, potentially longer depending on if you study full-time or part-time.
Admission Requirements
Associate's level programs require applicants to have at least a high school diploma or GED. They also may require letters of recommendation.
More infrequently, you may be required to send in standardized test scores. A handful of associate's programs in massage therapy require applicants to hold a certificate in the discipline.
Courses
Associate's level courses in massage therapy programs cover much of the same ground as certificate programs, though to a greater degree of depth and complexity.
Associate's programs typically give students to option to pick certain courses to specialize in a particular massage technique such as deep-tissue massage or acupuncture. Some courses you will take may include:
Kinesiology
Clinical Pathology
Microbiology
Gross Anatomy Lecture and Lab
Ethical Practice Management
Nutrition
Specific Relaxation Therapies (Yoga, Qi Gong, Acupuncture, etc.)
Graduates from associate's programs are fully qualified to pass the license exam and work in the field.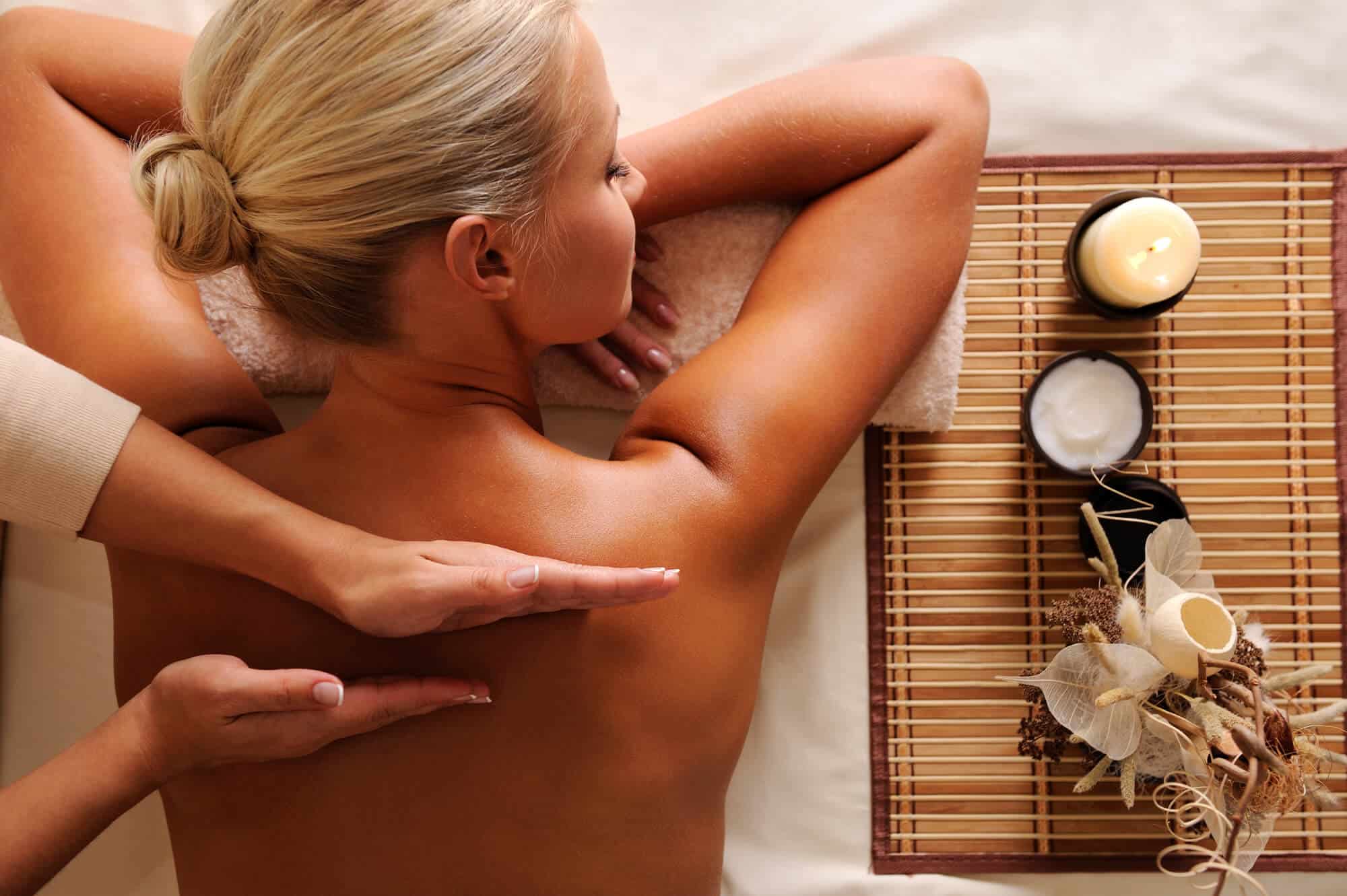 Option 3: Massage Therapy Bachelor's Degree
Bachelor's programs in massage therapy are rarer than certificate and associate's programs and are normally focused on training massage therapists to become specialized in a particular therapeutic technique.
Many who are working towards a bachelor's degree in massage therapy are currently licensed professionals.
These programs also tend to involve courses focusing on alternative medicine and treatments, such as various indigenous and Chinese therapeutic techniques and substances, as well as various core college requirements such as English, psychology, and math. Many who complete an associate's degree transfer those credits to work toward a bachelor's degree.
The typical bachelor's degree takes about 4 years to complete.
Admission Requirements
The admission requirements for bachelor's level programs differ depending on the institution. Some schools may only require applicants to have a high school diploma while some may require a certificate or associate's degree and some professional experience in the field. Generally, you will be required to send in letters of recommendation from faculty or employers.
Courses
Bachelor's level courses focus on teaching specific aspects of massage techniques and providing in depth understanding of the medical science behind massage therapy.
They also feature a large amount of clinical practice.
A hypothetical course load for a semester of study might look like:
Static Point Techniques
Principles and History of Massage
Pain Science and Neurophysiology
Heavy Pressure Management Techniques
Biomechanics and Kinesiology
Scientific and Professional Communication
Clinical Practicum
Online Massage Therapy Programs
There exist several massage therapy programs that will allow you to take the bulk of your course load online.
All massage therapy programs have practical in-person requirements so inline programs are normally supplemented with internships and hands-on training in local salons and schools.
Some online programs are even accredited so make sure to check the specifics of any online programs.
How to Get Your Massage Therapist License
There are currently only 5 states that do not require licensure to work as a massage therapist (Wyoming, Kansas, Oklahoma, Minnesota, and Vermont).
All other states require massage therapists to be licensed to practice.
The exact requirements differ from state to state, but normally you have to present proof of completion of a massage therapy program, proof of a certain number of clinical hours, and pass a licensing exam.
The most common licensing exam is the Massage & Bodywork Licensing Examination (MBLEx) which is governed by the Federation of State Massage Therapy Boards (FSMTB). It is a 2-hour exam that features 100 multiple choice questions, each grouped by topic. The exam also has a client assessment portion where candidates are given a case and asked to analyze it.
The exam costs $195 per session. If you fail, you must wait 30 days to retake the test and must pay the $195 fee again.
Once you pass the exam, you will be granted to massage therapist license and can legally operate in the state.
Some states do not use the MBLEx and instead have their own exam created after state guidelines on the massage therapy profession.
License Renewal
All states that have licensing requirements for massage therapy require massage therapists to renew their license every 4 years.
License holders must complete a total of 12 continuing education credits through a program certified by the National Certification Board for Therapeutic Massage and Bodywork (NCBTMB).
Renewal involves sending in proof of continuing education credits and any applicable renewal fees.
There are general requirements and not exhaustive for every state: make sure to check your individual state licensing board for a full list of required documents for license renewal.
Summary: Becoming a Massage Therapist in 4 Steps
Let's go over the basic steps to becoming a massage therapist:
Step 1. Attend a massage therapy education program
The basic educational option for prospective massage therapists is to obtain a certificate from a massage therapy program. While a certificate will qualify you to take the state- licensing exam and gain employment, many massage therapists pursue an associate's or even a bachelor's degree in massage therapy for better career prospects.
Step 2. Pass the state licensing exam
The next step after completing your education is to pass the state licensing exam. As stated previously, the most common licensing test used in the US is the MBLEx, a computer-administered 100 question multiple choice exam. After passing the exam you will be licensed to work as a massage therapist in your state.
Step 3. Find a job
Next up is to secure gainful employment. A large chunk of massage therapists are self-employed and rent out a studio and schedule their own appointments with clients. A sizable portion of massage therapists work in personal care services, such as hotels, spas, and salons. Massage therapists also work in the offices of health practitioners, most often chiropractors offices.
Step 4. Maintain/Renew your license
If you live in a state that requires licensure for massage therapists, you will be required to periodically renew your license on a 4-year basis. License renewal requires finishing a certain amount of continuing education credits.
Massage Therapist Job Growth, Salary & Outlook
Massage therapists face good starting salaries and a phenomenal career growth rate.
The median annual salary for massage therapists in 2018 was $41,420 ($19.92/hour) and the field is expected to grow by 26% from 2016 to 2026, much faster than the average rate.
Moreover, massage therapy offers a very flexible job environment on account of the per-client nature of the work and the fact that many professionals are self-employed.
How Long Does It Take to Become a Massage Therapist?
The normal certificate program takes about a year to complete. Factoring in a few months to study for the license exam and to find a job, you can begin working as a massage therapist in as little as a year and a half. Many massage therapists complete a 2-year degree.
Frequently Asked Questions
It is not required to attend a formal education program to become a massage therapist, though it certainly is much more difficult. It is possible to learn the tools of the trade by finding an internship but the number of professional massage therapists that would take an intern with nor formal schooling under their wing is understandably low.
Massage therapists can choose to become board certified, which means they meet the standards of education and training laid down by the NCBTMB. A certification in massage therapy indicates that the holder possesses the skills and expertise of the top professionals in the field of massage therapy. Attaining your board certification involves passing the NCBTMB Board Certification Exam and undertaking at least 250 hours of professional massage experience.
Massage Therapist Training Video