There has never been a better time to be an ultrasound tech.
Advances in medical technologies and an aging boomer population are expected to cause a massive increase in demand for sonography professionals that can make and interpret diagnostic readings with ultrasound equipment.
Ultrasound techs face great starting salaries and show a lot of potential for career growth.
That's why we are here to give this guide on what education/credentials to be an ultrasound tech.
Steps to Becoming an Ultrasound Tech
Here is a quick guide on how to become an ultrasound tech:
Step 1: Get an education
The first step is to receive either an associate's or bachelor's degree, or a complete an ultrasound tech certificate program. All ultrasound tech programs include so modicum of clinical experience.
Step 2: Get certified
Many states that require licensure make ultrasound techs receive their certification beforehand. If you are in one of these states, you will have to pass a certification exam from either the ARDMS, ARRT, or CCI. Even if your state does not require certification, it is still a good idea to become certified.
Step 3: Get your license
If you live in a state that requires licensure then you must pass a state-approved exam and provide proof of your education and clinical experience. Once you have your license you can work in the field.
Ultrasound Tech Education Requirements
You must get a formal education to become an ultrasound tech.
Most ultrasound techs receive an associate's degree from a 2-year program though 4-year bachelor's and shorter certificate programs for ultrasound technology exist.
Ultrasound tech programs are offered at community, technical, and vocational colleges, as well as traditional 4-year universities.
All states require ultrasound techs to have a license to practice. In some of these states, getting a license requires getting certified.
The most well-known bodies that provide certification in ultrasound technologies are the American Registry for Diagnostic Medical Sonography (ARDMS) and Cardiovascular Credentialing International (CCI). Most certification organizations require you to provide proof of education and clinical experience to apply for certification.
All certified ultrasound technicians are required to take continuing education credits to maintain certification. Not all states require certification to obtain a license, but employers prefer to higher certified candidates.
Accreditation
Accreditation for ultrasound tech programs is granted through the Commission on Accreditation for Allied Health Education Programs (CAAHEP). CAAHEP has accredited more than 200 ultrasound tech programs in the US, ranging from 1-year certificate programs to 4-year bachelor's degrees.
Accredited programs are distinguished as providing competent education for entry-level ultrasound techs and providing them with proper clinical training.
Strictly speaking, you do not have to attend an accredited program to obtain your license and get a job, though employers favor candidates with education from accredited institutions. Accredited programs are also eligible for federal funding so you can receive federal financial aid.
Training Information & Types of Ultrasound Tech Degrees
There are three major educational paths for ultrasound techs.
You can complete a 2-year associate's degree, 1-year certificate program, or a 4-year bachelor's degree. Unlike most certificate programs, certificate programs in ultrasound technology normally require applicants to have at least a bachelor's degree in some major or an associate's degree in an allied health program.
Virtually all ultrasound tech programs involve a substantial amount of clinical training so much of your studying will be practical application.
Completing a 1-year certificate program will qualify you for an entry-level position in the field. While a 1-year program will qualify you, pursuing an associate's degree will make you more competitive in the job market.
Bachelor's programs in ultrasound technology are rarer and are often pursued by currently employed ultrasound techs who are pursuing continuing education credits or completing a degree for career advancement.
Graduates from advanced ultrasound tech programs will be qualified to work in research institutions and specialized fields of sonography, such as vascular or musculoskeletal sonography.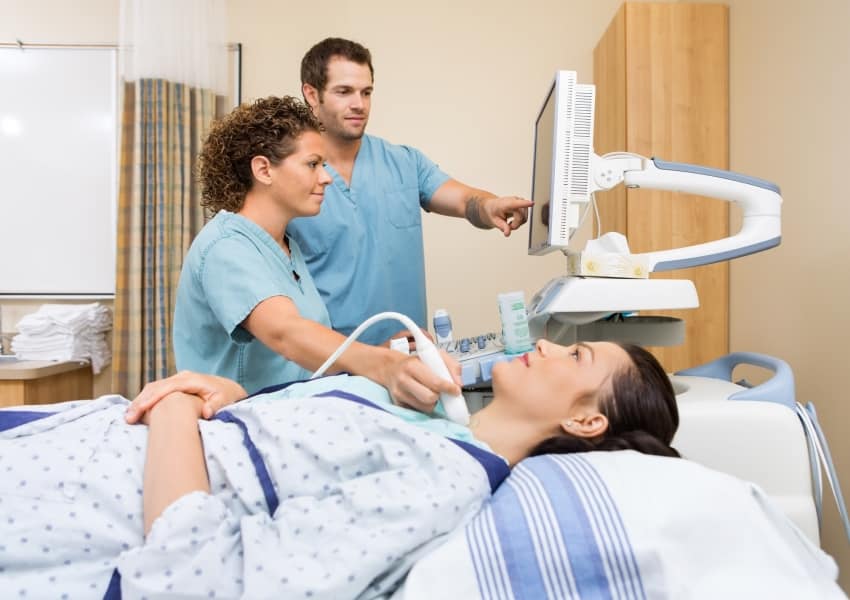 What You'll Study
Ultrasound techs must take a wide range of courses that cover the basic sciences including physics, chemistry, biology, and math, as well as course on medical law, ethics, professionalism, and core college requirements like Psychology, Sociology, or History.
Ultrasound tech programs often require English or some composition courses because of the collaborative nature of the medical field.
Ultrasound techs tend to take more physics-oriented courses than other medical professionals as they need to have a thorough understanding of the physics behind their diagnostics tools.
Ultrasound techs will also study things like anatomy/physiology, medical terminology, hospital management, and various forms of ultrasound applications and techniques (fetal, muscular, abdominal, echo, etc.). Lastly, modern ultrasound tech programs typically incorporate computer technology courses.
Students in ultrasound tech programs will also spend a great deal of time in clinical and laboratory settings.
Most programs require a professional externship where you work under the direction of a licensed physician or other medical professional.
Most programs require a 3 to 6-month externship or internship to graduate and most states that require licensure need proof of a certain number of hours worked in a professional setting.
How Long Does it Take to Become an Ultrasound Tech?
It depends on the program you pick and your previous education. If you are accepted to a 1-year certificate program, you can start working as an ultrasound tech in as little as a year and a half, factoring in a few months to study for the license exam and find a job.
Generally, you need to already have a college degree to get into a certificate program, so overall this option takes 3-5 years of total education.
If you pursue an associate's degree, you can start working as an ultrasound tech in a little over two years. Bachelor's degrees normally take 2-4 years to complete, depending on if you are continuing from an associate's degree or starting fresh.
Keep in mind, no matter which degree option you pursue you will get experience working in clinical settings during the program.
How Much Does it Cost to Become an Ultrasound Tech?
Tuition costs for ultrasound tech programs vary widely depending on the state and specific institution. The average certificate costs anywhere between $5,000-$25,000. Associate's level programs can cost anywhere between $7,000-$40,000.
Bachelor's degree programs are usually more expensive and run between $30,000-$40,000. Certification from ARDMS costs $200 and the cost for licensure in most sites costs $125.
Option 1: Ultrasound Tech Associate's Degree
The "basic" educational option for ultrasound techs is to pursue and associate's degree.
Associate's level programs are geared to preparing students to sit for any required licensing exams and get an entry-level position in the field.
Most of these programs last 2 years and cover the basics in a number of ultrasound techniques. Students will take core classes in the sciences and mathematics along with technical courses focusing on ultrasound technologies and techniques.
Most associate's programs incorporate professional courses like medical writing and medical law/ethics and other core college courses like English, composition, Psychology, History, and Sociology.
Associate's programs also devote much time to clinical training. As a student, you will spend a substantial amount of time working in clinical settings with licensed ultrasound technicians. You will get experience doing basic tasks such as preparing patients for procedures, preparing diagnostic equipment, keeping track of patient records, and providing customer service to patients.
Admission Requirements
Most associate's degrees require applicants to have at least a high school diploma/GED and may require you to complete some prerequisite courses in math and science.
Several programs require you to send in standardized test scores (ACT or SAT) and may require letters of recommendation from teachers/employers. A small proportion might require you to pass a drug test, physical screening, and background check upon acceptance into the program.
Courses
A hypothetical course load for an ultrasound tech associate's degree program might look like:
Physics
Applied Mathematics
Intro to Sonography
Ultrasound Physics
Abdominal Sonography
Neurosonography
Clinical Internship
Some associates programs may allow students to pursue a specialized track for cardiac and vascular ultrasound, among other specializations.
Option 2: Ultrasound Tech Certificate
An ultrasound certificate program is a shorter 1-year program meant to quickly train degree-holders for a career as an ultrasound technologist.
Ultrasound certificate programs are generally more focused and tend to not include core subjects. A larger portion of a certificate program may be spent working in a clinical internship.
Certificate programs are a kind of "fast track" option so they can be intense and proceed very quickly. Once you complete a certificate program, you will be qualified to sit any required license exams and find a position in the field.
Some ultrasound tech certificate programs give students the option of pursuing specialized track for certain ultrasound modalities. These programs are mostly geared towards working ultrasound techs who want to specialize.
There are some certificate programs that are geared towards students with no experience. These programs are often used as a jumping-off point to pursue an associate's degree.
Admission Requirements
Most certificate programs require applicants to have a bachelor's degree or an associate's degree in an allied health profession.
Applicants with an associate's degree may have to provide proof of professional employment or provide documentation of clinical practice hours. Applicants may also be required to pass a drug screening and criminal background check.
Courses
Curricula in certificate programs vary widely depending on the level of instruction.
A hypothetical course load for an advanced certificate program might look like:
Cardiac Sonography
Medical Sonography I, II,& III
Vascular Sonography
Ultrasound Physics and
Instrumentation I&II
Clinical Practice
These courses are meant to give thorough coverage in the major ultrasound fields and techniques.
Option 3: Ultrasound Tech Bachelor's Degree
Lastly, there is the option of pursuing an ultrasound tech bachelor's degree. Bachelor's level programs cover everything you would see in a certificate or associate's program but to a much greater depth and sophistication.
Bachelor's level programs give students advanced knowledge of ultrasound equipment, methods, and interpretation, and teach fundamental topics in the biomedical and physical sciences.
Bachelor's programs also incorporate college core courses and usually involve clinical internships. Many who pursue bachelor's degrees are employed ultrasound techs that are working towards career advancement.
Admission Requirements
Bachelor's programs require applicants to have at least a high school diploma or GED. Many ultrasound tech bachelor's programs require you to have at least 3 years of math and science under your belt which includes biology, calculus, and physics. Applicants with an associate's degree in an allied health field can often transfer credits and complete a bachelor's in just two years.
Courses
A hypothetical course load for a bachelor's program might look like:
Medical Terminology
Genetics
Anatomy/Physiology
Computers in Medicine
Sonographic Techniques (Vascular, Abdominal, Gynecological, etc)
Clinical Rotations
Medical Ethics
Healthcare Administration
Bachelor's level programs are designed to give advanced and broad knowledge of ultrasound technology and the medical field.
Online Ultrasound Tech Programs
Given the hands-on nature of the profession, options for online ultrasound tech programs are limited. Most programs will allow you to take some courses online but you will still have to perform in-person clinical rotations.
There are, however, online certificates and continuing education courses for ultrasound techs. These programs are meant to supplement professional training and focus on specific areas of ultrasound technology.
How to Get Your Ultrasound Tech License
There is no national licensing organization for ultrasound techs, and every state has different license requirements or none at all.
States that do have licensing requirements often make applicants take a state-approved exam and pass a practical test. They may also have to provide proof of clinical hours and completed education. A handful of states require ultrasound techs to receive certification from the ARDMS.
Certification shows that the ultrasound tech has met an independent standard for education and performance that is laid down by a national body of ultrasound technicians.
Certification is normally not required but employers prefer certified candidates.
License Renewal
If you purse licensure from the ARDMS, you must periodically renew your license. This can normally be accomplished by filling out the correct renewal forms, providing proof of completing continuing education credits, and any certification renewal fees.
If you wait too long to renew your certification you may be required to go through the entire process again. The ARDMS requires certified techs to renew their certification every 6 years.
Ultrasound Tech Job Outlook & Growth
Ultrasound techs face great starting salaries and a very high potential for career growth.
According to the US Bureau of Labor Statistics, the annual median salary for ultrasound techs in 2018 was $67,080 ($32.25/hour). The top 10% of earners made more than $93,100 and the lowest 10% made less than $29,340.
Those employed in outpatient care facilities saw the highest average salaries at $68,060.
Employment for medical sonographers is projected to grow by 19% from 2018-2028, much faster than the national average.
An aging baby boomer population is expected to cause an increased demand for diagnostic, vascular, and cardiac ultrasound techs who are trained at diagnosing and identifying health problems related to aging.
Associations, Groups & Resources for Ultrasound Techs
What is an Ultrasound Tech
Before we start analyzing how to become an ultrasound tech let's find out what the daily duties are and the working environment of an ultrasound tech.
An Ultrasound Techs' work is to operate an ultrasound machine in order to capture images of various body organs.
They try to diagnose a patient's medical condition and find infections and illnesses of the internal organs that cannot be seen by the bare eye.
Like all medical professions you will need to have a solid knowledge of human body anatomy, physiology and stay updated on the latest technologies, as you will be operating a machine.
Ultrasound machines use sound waves to produce images and not radiation, making them one of the safest diagnostic imaging machines, both for patients and operators.
The daily duties of an ultrasound technician include:
Studying medical records and histories
Correctly position the patient
Capturing accurate images
Making calculations
Taking measurements
Evaluating preliminary results
Helping the doctors by making correct diagnosis's
Ultrasound techs usually work at hospitals and private clinics or at physicians' offices.
Ultrasound techs at hospitals and private clinics work mostly at an ultrasound station in the diagnostics area. They also conduct mobile ultrasounds to patients who cannot move from the bed. They work fulltime on shifts but a few of them work part-time too.
Optional: High School Preparation
What High School Courses Do I Need to Take to Become an Ultrasound Tech?
Take As Many Science Classes As You Can
It is a good idea for those who want to follow a medical profession to take as many science classes as they can. Take chemistry, biology, physics, anatomy and physiology.
Getting good grades on these courses will not only help you to get accepted at a good ultrasound technician school but will also help you with your coursework when you study, as the majority of the courses you will have, will be science oriented.
Take Computer Skills and Math Classes
Another part of your work will be taking measurements and making complicated calculations so having a strong math foundation is essential.
Taking algebra, calculus and any other math class available (preferably with advanced placement) is a good idea.
Take Advanced English
As an ultrasound tech you will be working with patients, so having strong communication skills is a must.
You will need to explain to them the procedure of the sonographer in a clear way that will keep them relaxed.
You will also need to collect information about their medical history in a friendly, comfortable manner.
You will maintain their medical and patient records, so strong writing skills are also required.
Taking advanced English classes will help you build the communication and writing skills required for this profession.
Ultrasound Tech Training Video