Welding is an attractive career. Compared to other career paths, becoming a welder requires relatively little formal education and welders face great starting salaries and a lot of career flexibility. 
There is not really a 'standard" educational path for welders as there are no legal education requirements to work as a welder.
However, there are several welder certificate and degree programs meant to help you on your professional path.
Below is a comprehensive overview of what it takes to become a welder, education, certifications, and more.
What is a Welder?
Before we start explaining how to become a welder let's first talk about this profession and answer the question what a welder is.
Welders are trained tradesmen with the specialization of joining metals together like aluminum, brass, steel and stainless steel.
There are several industries where welders can work: automotive industry, machinery manufacturing, building construction, ship building, general purpose manufacturing, creative arts and infrastructure projects.
The daily duties of a welder are:​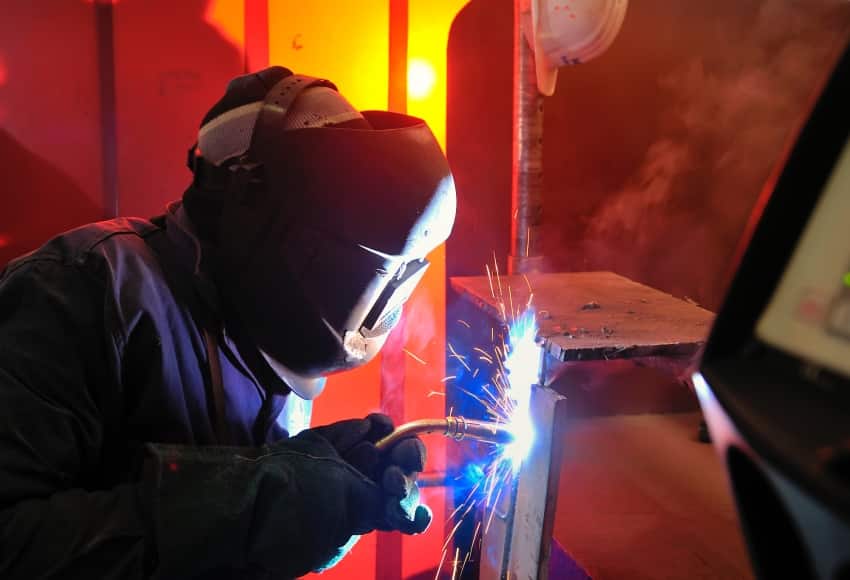 Because the work of a welder is relatively dangerous, welders wear protective equipment like: helmets, gloves, safety glasses and jackets.
Their work space can vary, from platforms, underwater, factories and auto repairs.
They mostly work 40 hours but due to the high demand for their services, it is estimated that 20% of them work 50 hours or more.
They sometimes work at shifts as some companies want to have 24 hours, 7 days a week production.
Welder Specialties
Below we have listed four of the most promising welding specialties for welders in the US:
High-Tech Welding
​They mostly work at the aerospace industry, medical industry and automotive industry where they manufacture missiles, air-crafts and satellites. They use equipment of the latest technology like robots and lasers. In order to become a high tech welder you will need formal post secondary training and continuous education in order to stay updated on the new technologies.
Sheet Metal Welders
This is the most common specialty for welders. Their work is to join sheet metals.
Underwater Welding
At this specialization welders are wearing scuba diving equipment in order to repair structures under the surface of the water. They mostly work for oil drilling companies fixing and joining pipes. In order to become an underwater welder you will need a commercial diving and a welding certification.
Structural Steel and Iron Workers
They work mostly at construction sites participating at commercial and residential buildings construction. A lot of the Iron welders work also under state and federal agencies participating in the construction and rehabilitation of infrastructures like highways, bridges and old buildings.
If you want to learn more about welders specialization read our in depth article: Four Career Paths for Welders​
Steps to Becoming a Welder
Here are the basic step to becoming a welder:
Step 1: Finish a welding program
The first step is to finish a certificate or associate's level program in welding. This should give you the training you need to find an apprenticeship and acquire basic welding certifications.
Step 2: Find an apprenticeship
After completing your education, the next step is to find a welding apprenticeship. Some education programs will help you out with this but some will not. Gaining an apprenticeship is the best way to get practical experience to put on your welding resume.
Step 3: Get certified (optional)
Certifications are not required to be a welder but employers usually favor certified candidates. The AWS is not the only organization that offers welder certification, but it is the most well-known.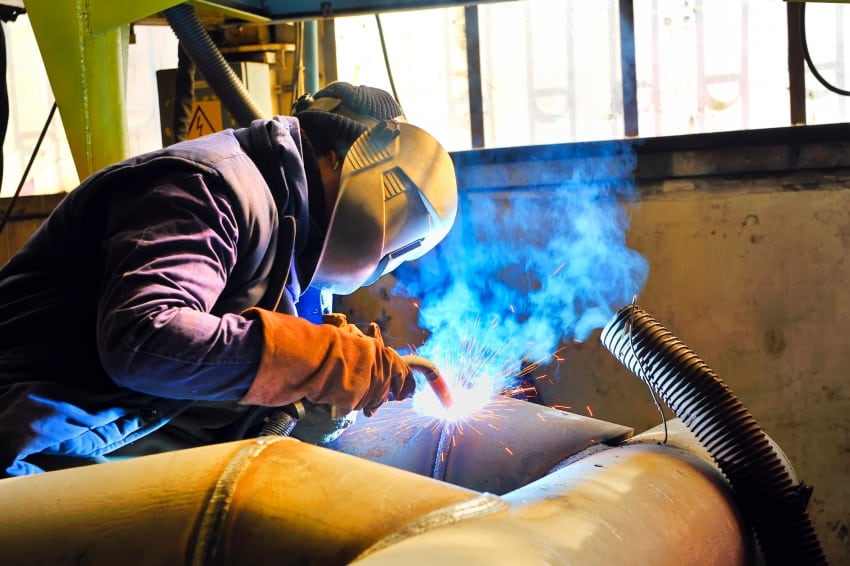 Welder Education Requirements
Becoming a welder requires relatively little formal education, however it does require a lot of practice and training.
As it stands, there is currently no nationwide educational or professional standards for welders.
You can become a welder without going to a technical program, though most individual employers have some education, experience, or certification requirements.
Most formal welding education programs are either certificate or associate's level programs that can be completed in as little as one year or two years, respectively.
In general, these programs are offered at community, technical, and vocational schools as well as traditional 4-year universities.
In general, applicants to these programs must have at least a high school diploma/GED and will most likely have to take placement exams before being admitted into the program.
There is also your welder apprenticeship. Like most technical trades, you will have to complete at least 4 years of apprenticeship under a licensed welder to become a journeyman welder.
As an apprentice, you will be working as an actual welder though in a diminutive role under the supervision of a qualified professional.
Most formal programs incorporate some kind of apprenticeship into their curriculum, though it is entirely possible to find an apprenticeship on your own outside of your program.
If you are really lucky, some employers may be willing to train you from scratch without any previous experience or education even if you aren't in a formal program.
Accreditation
There is currently no federally recognized accrediting organization for welding programs, however, the American Welding Society recognizes certain programs and companies as having a high standard of education.
Some programs are accredited under the American Commission of Career Schools and Colleges, though these programs are not accredited specifically for welding.
Training Information & Types of Welder Degrees
The "basic" educational option for becoming a welder is to complete a certificate program.
Certificate programs are short and can normally be completed in just a few months or a year if pursued part-time.
Again, welders are not legally required to have any formal education in the trade though employees tend to favor applicants who have some formal education.
There are also 2-year associate's level programs and 4-year bachelor's in welding technologies programs.
These programs cover much of the same ground as certificate programs but to a greater degree of depth and sophistication.
Associate's and bachelor's level programs often allow students to become specialized in a particular area of welding, such as underwater welding, gas arc welding, and electric arc welding.
Welders can also become specialized for a certain field, such as aerospace welding, construction, or motor vehicles.
Many people who pursue associate's level and higher degrees in welding technologies are working professionals who are going back to school for their career advancement.
What You'll Study
Your exact course load will differ heavily depending on your program.
Most welding certificate programs are conducted in modules where each module focuses on individual welding concepts, like metallurgy, welding inspection, joining processes, and safety/emergency response.
Certificate programs tend to be very focused and do not often include other core college courses.
Associate's and bachelor's level programs are a bit more comprehensive and not only cover fundamental welding techniques but also delve into the science and theory behind welding.
Associate's and bachelor's level students will most likely study welding fundamentals as well as things like materials science, metallic chemistry, physics/statics, and some engineering-focused courses.
Some of these programs incorporate college core courses like English, psychology, foreign language, and history.
No matter what kind of educational program you choose, hands-on lessons will be a huge part of your training.
Every welding program worth its salt offers some kind of training, most often in the form of an apprenticeship.
Some programs will match you up with a supervisor while others may require you to find one on your own and have them approved by the university.
How Long Does it Take to Become a Welder?
A basic welding certificate program should take a year to complete at most. However, the most important part of your training is your apprenticeship.
Most welding apprenticeships take about 3-4 years to complete, after which you will be considered a "journeyman" welder.
To be clear, as an apprentice you will be working as a welder with actual clients, albeit in a subordinate role under a supervisor. So strictly speaking, you can start working as a welder in just a few days if you find a program that offers apprenticeships or find one on your own.
Otherwise, it takes about 3-4 years of education and training to become a full-fledged journeyman welder.
How Much Does it Cost to Become a Welder?
In 2018, the national average tuition for a welding certificate program was about $5,000.
The average tuition for an associate's level welding program was around $15,000.
Tuition costs for bachelor's level programs differ widely depending on if you are continuing your education from an associate's program or starting fresh on a 4-year program.
Aside from tuition costs, welders usually have to pay to either rent or buy their welding equipment.
You can expect to pay anywhere between $500-$1,500 for tools and safety equipment. Lastly, you need to factor in the cost of any professional certifications you test for.
Certification test fees normally range between $300-$550.
Option 1: Welder Certificate
The "standard" educational option for welders is to complete a welding certificate program.
These programs are usually short and focused and do not cover any material outside of welding fundamentals. The point of a welding certificate program is to prepare you for an entry-level position in the field as an apprentice.
To reiterate, there are no legal educational requirements to find work as a welder, though most employers will only want to hire candidates who have some formal education.
Welding certificate programs cover the basics of welding styles and techniques.
Students will learn about the basic mechanical and thermal properties of metals and how to properly manipulate metals using heat and force.
They also cover standard safety and emergency procedures. Certificate programs focus heavily on practical experience so much of what you will do will be hands-on.
At the end of a certificate program, you should be qualified to sit and pass the American Welding Society's (AWS) certification exam to become an AWS Level 1 – Entry Welder.
Admission Requirements
Welding certificate programs usually have very little admissions requirements. Most programs require applicants to have at least a high-school diploma/GED though some programs only require applicants to be a certain age.
Upon acceptance, students may be required to take course placement tests or lab safety tests. There is also an application fee which normally sits around $75-$125.
Courses
A hypothetical course load for a welding certificate program might look like:
Gas metal arc welding
Oxy-fuel welding
Welding blueprint reading
Technical math
Technical writing
The purpose of these courses is to provide a solid understanding of welding fundamentals and techniques.
Option 2: Welder Associate's Degree
There is also the option of pursuing an associate's degree in welding technologies.
Associate's level programs are often pursued by working professionals who are looking to further advance their careers.
Associate's level programs in welding technology cover most of the same ground as certificate programs but also incorporate the more theoretical and scientific aspects of welding.
Students not only learn about welding techniques and practice but also learn about the chemistry and physics behind welding and welding applications.
For instance, students in welding associate's degree programs learn about how metals bond with other metals on an atomic level, how metals transfer heat, and what explains metals' electrical conductivity.
These programs also offer courses on specialized subdomains of welding, like automotive welding or robotics welding.
The purpose of the associate's level program is to prepare people for employment in the fields and prepare them for one of the many welding certification exams offered by the AWS.
This is one reason why associate's level programs let you specialize in a particular subfield of welding.
Associate's level programs can also qualify you to work as a welding supervisor or manager.
Admission Requirements
Most associate's level programs require applicants to have a high school diploma/GED and have completed some prerequisite technical courses, like geometry, drafting, and metalwork. Some programs may also require you to send in standardized test scores (SAT or ACT) and might require letters of recommendation from teachers or employers.
Courses
A hypothetical course load for an associate's degree in welding technology might look like:
Properties of materials
Technical mathematics
Statics
Blacksmithing and metal shaping
Advanced arc welding
Welding inspection and quality control
Non-ferrous welding
Overall, these curricula are designed to teach people the theory and practice of welding.
Option 3: Welder Bachelor's Degree
There is also the option of 4-year bachelor's level programs in welding technology.
These programs are a bit rarer and normally take 4 years of total study to complete.
Bachelor's level programs are designed to give students a deep familiarity with welding theory and practice and specialized welding applications, like computer-aided design or automated machine welding.
Bachelor's degrees are normally pursued by those who want to take their welding career to the next level and are interested in the higher-level manufacturing and design process of welding.
Many of these programs also focus on welding management and take place in team-based project-oriented environments.
Bachelor's program graduates usually go on to work as professional consultants, welding instructors, supervisors, or work in the design and manufacture of welding technologies.
Admission Requirements
Most bachelor's level welding programs require applicants to have at least a 2-year degree in the program and have completed some prerequisite technical courses in calculus, physics, chemistry, and materials science.
Some programs may also require applicants to be currently employed as a welder, either as an apprentice or a journeyman.
Courses
A hypothetical bachelor's level welding curriculum might look like:
Advanced metallurgy
Alloy fabrication
Computer-aided design
Welding manufacture and testing procedures
Materials engineering
Automated machine welding
Essentially, bachelor's level programs are meant to train students in advanced applications of welding theory and technologies.
Option 4: Welding Master's Degree
Lastly, there is the option of pursuing a master's of science in welding engineering.
Master's level programs are highly specialized and are normally only pursued by professionals who need continuing education credits to maintain their certifications.
Master's level programs dive deep into specialized welding applications such as electronics, medical devices, aerospace welding, and marine welding applications. Welding engineers are the people who research and pioneer new welding technologies and techniques.
Admission Requirements
Master's level welding program requires students to have at least an associate's degree in the discipline.
You may also be required to be currently employed as a welder and have a certain amount of hours of experience in the field. Some programs require applicants to send in GRE scores and letters of recommendation from employers or teachers.
Courses
Often, these programs are offered online so there is great flexibility in curriculum and course schedule. Some courses may include:
Advanced robotics welding
Physical principles of welding
Engineering analysis
Non-destructive analysis
Advanced structural design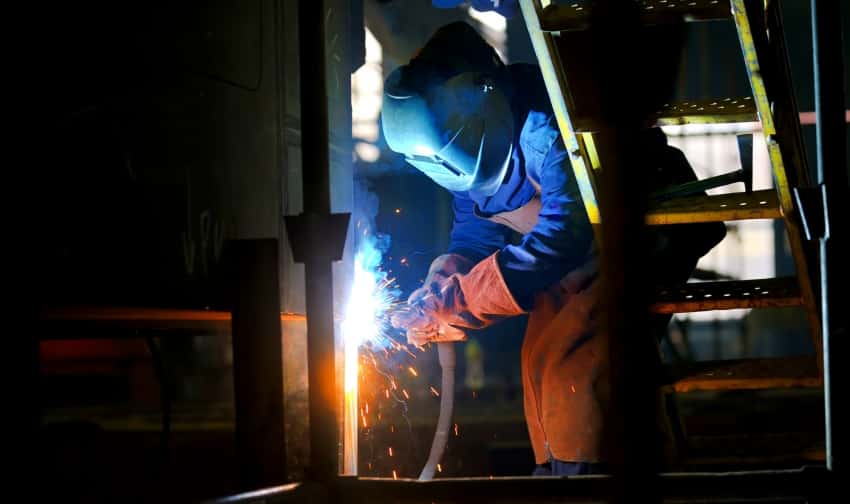 Online Welder Programs
As welding is a very hands-on technical discipline, options for entirely online welding programs are limited.
Most programs, however, do offer at least some online courses in their programs.
Most online welding programs are designed for professional welders seeking continuing education credits to maintain their certifications.
In general, if you are looking for a basic welding program, you should look for in-person programs.
Graduating from an in-person program gives you a better chance on the job market.
How to Become a Certified Welder?
There are no legal certification requirements for being a welder, though the AWS offers several competency tests to become certified in various fields of welding. The basic certification exam offered by AWS is the "certified welder" (CW) test.
This is the basic welding certification test that recent graduates from certificate programs should vie for.
AWS also offers various certifications for advanced welding applications, such as welding inspection, welding education, welding sales representative, and more.
Again, you do not have to have certification to work as a welder, though getting a certification will help your chances of employment.
Welder Job Outlook & Growth
Welders face good entry-level salaries and good career stability.
According to the US Bureau of Labor Statistics, the annual median salary for welders and metal-workers was $41,380 ($19.89/hour).
The highest-earning 10% of welders made an average of $63,740 and the lowest-earning 10% of welders made $28,560.
Welders employed as trade contractors and consultants saw the highest average salaries at $44,580 while those employed in manufacturing saw the lowest average salaries at $39,920.
According to BLS data, the welding profession is expected to grow by 3% from 2018-2028, which is slower than average.
However, welders, in general, face good job stability as it is expected the country's aging infrastructure will require a boom in welding employment. The basic skills of welding are similar across the job market so it is relatively easy for a welder to transfer from one industry to another.
Certification Renewal
If you receive a welding certification through AWS then you will be required to renew it periodically.
Each certification has different requirements for license renewal.
Most licenses just require you to present proof you are still working in the field you are certified for, though some more advanced certification may require you to complete continuing education credits.
Continuing education credits are a way to show certification organizations you are staying up to date on any changes in the welding field.
Associations, Groups & Resources for Welders
What It Takes to Become a Welder?