Never has a career in the healthcare industry been a better option.
One profession that is expected to grow quickly in the next decade or so is that of surgical technologists.
Surgical technologists, also called OR technicians or surgical technicians, play an integral role in the healthcare industry and assist doctors in surgical operations.
A career as a surgical tech is extremely rewarding and rife with opportunities for career advancement.
If you have a passion for healthcare and have always been fascinated by the workings of a surgical team, then a career as a surgical technologist may be a good fit.
Read on to figure out what education and credentials you will need to become a surgical tech.
What is a Surgical Tech?
If your dream career is in a surgical room but you don't want to study for years or didn't managed to get accepted at a medical school you maybe consider a career as a surgical technologist.
Keep reading this article and learn how to become a surgical tech.
Surgical techs are the unsung heroes of a surgical team and their work is to assist surgeons before, during and after a surgical operation.
What Does a Surgical Tech Do?
Surgical techs assist doctors during operations in the OR.
Surgical techs are mostly employed at hospitals and work alongside surgeons, surgical assistants, nurses, and anesthesiologists during medical procedures.
As a surgical tech, you will be responsible for the basic setup of the equipment and tools in the OR and responsible for assisting the surgeon during the operation.
Surgical techs are key members of the team and must be attuned to the needs of the surgeon and the patient to make the procedure go as smoothly as possible.
Surgical tech assists at all points during the operation, from pre-op to post-op.
Surgical techs prepare patients for surgery. For example, a surgical tech will clean, shave, and disinfect the parts of a patient's body that will go under the knife.
During surgery, surgical tech act as a "third hand" for the surgeon and prepare tools like scalpels and forceps, prepare medicine for administering, and make sure surgical equipment like monitors are in working order.
After the surgery, surgical techs are responsible for cleaning and disinfecting the OR and taking the patient back to their room.
The Daily Duties of a Surgical Tech Are:
Sterilize and prepare tools and equipment for surgery
Prep patients for surgery
Operate lights and other visual aids during surgery
Monitor patient's vital signs
Pass tools to the surgeon
Keep track of items like sponges, needles, and gauze
Assist in some surgical procedures like suturing
Clean OR after surgical procedures
Take patients back to their room
Clean and dress patient's surgical rooms
Prepare and dispose of lab specimens
Desirable Skills & Qualities of a Surgical Tech
Surgical techs are highly trained professionals and there are a number of desirable skills and qualities for the profession.
Calm Under Pressure
Surgical techs work in the high-octane high-stress environment of an OR. As such, they must be able to keep a level head even when things are not going smoothly.
They will have to quickly tackle medical emergencies under potentially gruesome circumstances.
Surgical techs also have to control their stress levels as one stressed employee can mess up the flow of the whole team.
Surgical techs cannot be squeamish with regards to blood and viscera.
Attention to Detail
Surgical techs must also have a high level of attention to detail.
Surgical instruments and equipment are complex and must be handled with care.
All equipment must be properly sterilized and patients must be prepped in an appropriate manner.
A single lapse in judgment can result in the surgeon operating on the wrong part of the patient's body.
Surgical techs need to carefully follow the instructions given by the surgeon and be sure of every action they take.
Good Communication Skills
Like many other professions, communication is a necessary part of the job as a surgical tech.
Accurately relaying important information like patient vitals to the surgeon and other members of the surgical team is an integral part of the job. Likewise, you must be open to suggestions and instruction and be able to communicate effectively with others on the team.
Physical Stamina
Being a surgical tech requires one to have good physical stamina. You will be required to work night shifts and be on call. The majority of your time will be spent standing. Some surgeries can last for over 12 hours so you will need to invest in a comfy pair of shoes.
Manual Dexterity
As a surgical tech, you will be working with instruments that require precise handling and operation.
Surgical techs need to have a steady hand and be good with their fingers.
From cutting open sutures to positioning forceps, surgical techs have to be dexterous and capable of fine manipulations with their hands
Good Bedside Manner
As with any profession in the healthcare field, surgical techs spend a lot of time around patients. They must be able to interact professionally with patients and make them feel at ease.
Getting surgery can be stressful and frightening for patients and surgical techs are normally the people who prep and guide the patient on what will happen during the surgery.
Surgical techs need to calmly explain procedures to patients, answer any of their questions, and make them feel safe and like they are in good hands.
A positive attitude can make a surgery go much better and surgical techs need to help patients remain positive.
Surgical Tech Work Environment
The majority of surgical techs are employed at hospitals and doctors offices.
They are normally employed full time and frequently must work nights and weekends.
Surgical techs are often on call and must be available to respond quickly to emergencies.
Since they work in hospitals and operating rooms with sick patients, surgical techs are at risk of exposure to harmful pathogens.
They are also at risk of injury from improperly handled surgical tools and needles.
Lastly, surgical techs are at risk for psychological stress due to the nature of their job.
They will encounter death and mourning families so they must be able to handle the stress of the workplace.
Surgical Tech Education Requirements
Potential surgical techs must complete a diploma, certificate, or associate's degree program to be employed in the field.
Diploma and certificate programs take around a year to complete while an average associate's degree takes about 2 years.
The course work in surgical tech programs normally focuses on surgical procedures, pharmacology, medical terminology, and anatomy/physiology.
Surgical tech programs also incorporates courses in the life and natural sciences. Surgical techs normally do not require a state-mandated license but this differs from state to state.
Accreditation
Although it is not required to land a job in the field, attending an accredited surgical tech program will make the job hunt much easier.
Surgical tech programs are accredited by the Accreditation Review Council on Education in Surgical Technology and Surgical Assisting (ARC/STSA), the only nationally recognized accreditation organization for surgical tech programs. ARC/STSA-approves programs are vetted to make sure they abide by high standards of teaching and practical instruction as laid down by the Commission on Accreditation of Allied Health Education Programs (CAAHEP).
Accredited programs offer career services and scholarship opportunities to students.
What You'll Study
Surgical techs must learn about the different kinds of medical devices, tools, and equipment they will be using.
They must also learn basic medical terminology, standard operating procedures, surgical techniques, and the different kinds of drugs and medicine that are used in surgery.
Surgical techs will also take courses in the natural sciences including biology, organic chemistry, biochemistry, and pharmacology.
The basic goal of surgical tech education programs is to teach students the basics of surgical techniques, sterilization, surgical equipment, and medical terminology.
Training Information & Types of Surgical Tech Degrees
Surgical techs require formal education and must acquire either a diploma/certificate or associate's degree in the discipline.
A diploma or certificate in surgical technologies is the most basic option that will qualify you for a job in the field, though employers prefer job candidates to have at least an associate's degree.
Bachelor's degree in surgical technologies does exist, though they are rarer than a diploma, certificate, or associate's programs.
Bachelor's programs in surgical technologies are normally taken by current professionals working in the field who want to specialize and advance their career.
Optional: High School Preparation
Already graduated from high school? Not a problem, simply skip this section.
Science Classes
Classes like chemistry and biology are a great choice for high school students that want to follow a surgical tech's career.
Taking these courses will help them get prepared for their surgical tech courses later and understand basic human anatomy and physiology which is crucial for their job.
Technology and Computer Classes
During an operation there are several electronic machines measuring patients' vital signals. If they stop functioning surgical technologists need to know how to troubleshoot them.
In order to do so they need to know how they operate them so taking computer based classes in high school is a good idea.
Math Classes
Basic math courses like algebra and calculus will also help aspiring surgical techs.
Like all healthcare professionals surgical techs will have a lot of math courses during their studies so getting prepared from high school is something smart to do.
Option 1: Surgical Tech Diploma/Certificate
The standard option for getting into the career field of surgical technologies is to earn a certificate.
Certificates in surgical technologies are offered at community colleges, vocational schools, and technical colleges.
Students in certificate programs gain hands-on experience in different areas of surgery, such as cardiothoracic surgery, gynecology, urology, orthopedics, and neurosurgery.
Clinical experience focuses on teaching the practical skills necessary for the job.
Certificate programs also train students in theoretical sciences, including biology, chemistry, and biochemistry.
A typical certificate program takes about 12-18 months to complete depending on if you study part-time or full-time.
These programs require extensive supervised time in the OR so students can learn the techniques.
Admission Requirements
Applicants to surgical tech programs are required to have at least a high school diploma or GED.
Some programs may require applicants to have completed a certain amount of prerequisite courses and send in test scores.
You may have to take the Psychological Services Bureau (PSB) Health Occupations Aptitude Examination as well.
Courses
Courses in certificate level surgical tech programs cover the basics of surgery, medical terminology, and anatomy.
Some possible courses you will take may include:
Microbiology
Anatomy/Physiology
Safety and Patient Care
Principles of Surgical Techniques
Surgical Procedures I & II
Pharmacology
Clinical Practicum
Option 2: Surgical Tech Associate's Degree
The other education option for prospective surgical techs is to earn an associate's degree.
Associate's level programs in surgical technologies cover much of the same ground as in certificate programs but to a greater degree of depth and complexity.
Courses cover basic and advanced anatomy, pharmacology, surgical techniques, and medical law.
As with certificate programs, associate's level programs involve a lot of hands-on training in clinical settings.
When you graduate from an associate's level program you will be fully qualified to work in a hospital as a surgical tech.
These programs are offered at community and technical colleges.
The typical associate's degree in surgical technologies takes about 2 years to complete.
Admission Requirements
Typically, applicants to an associate's level program must have at least a high school diploma or GED.
Some associate's programs may require applicants to have completed a certain number of prerequisite course or have some professional experience.
You may be required to send in standardized test scores (ACT or SAT) and some programs require letters of recommendation from faculty or employers.
Courses
Course in associate's level programs in surgical technologies are focused on teaching basic and advanced surgical techniques, procedures, and knowledge.
A hypothetical course load might look like:
Pharmacology
Medical law and ethics
Advanced Surgical Techniques I & II
Pathophysiology
Biochemistry
Advanced Microbiology
Clinical Rotations and Clinical
Practicum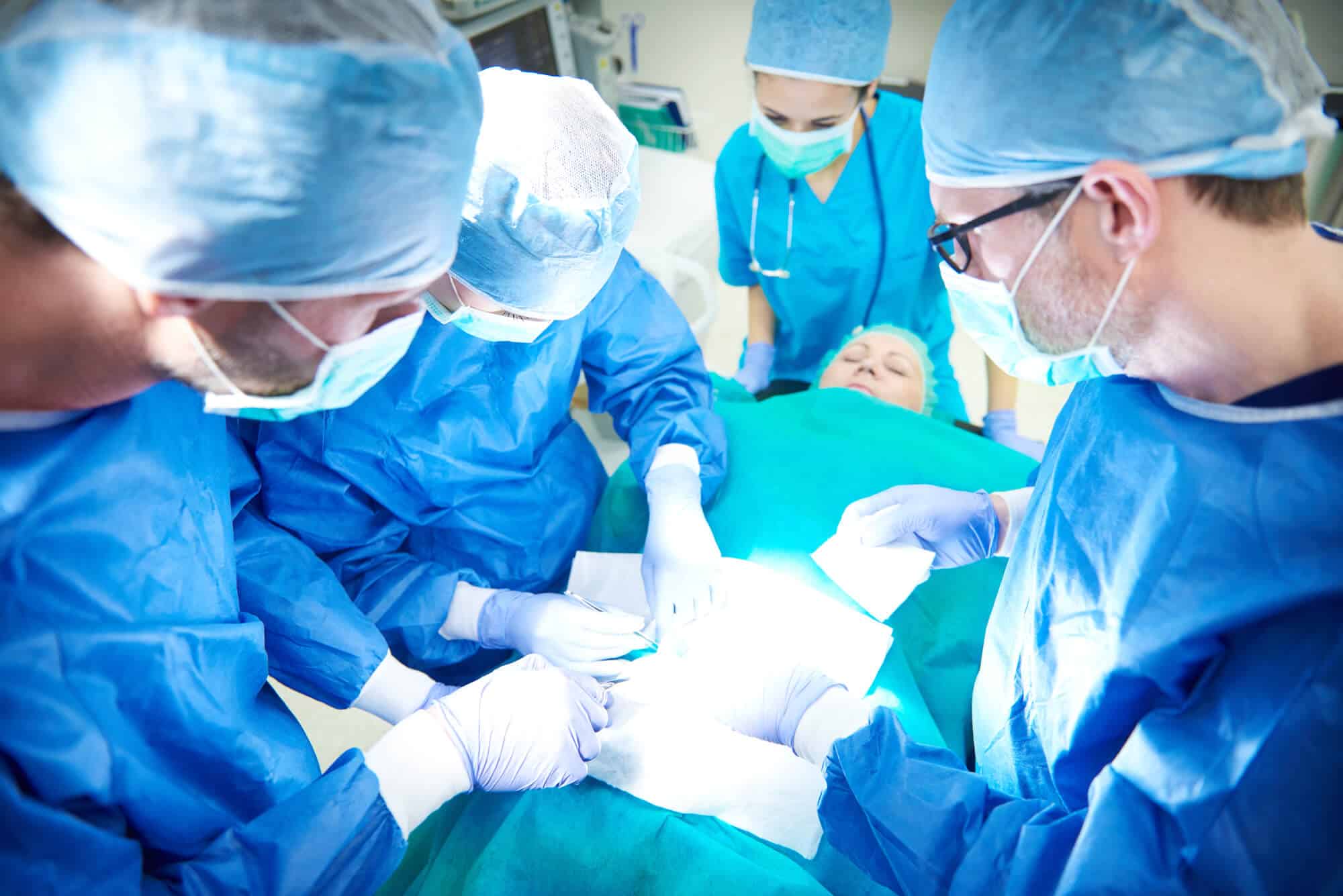 Certificate vs Associate's Program
Certificate Program
As a certified surgical tech you will be fully equipped to handle all the role has to offer and hit the floor running as a valuable part of any team.
You'll have an in-depth understanding of how to handle all the instruments, where you fit in the team roll, how to prepare the patient and surrounds for an operation, and how to carry out your work professionally.
It's the small details that make a huge difference in the role of a surgical tech. From preparing the operating table, updating patient charts, to passing the instruments.
Certification programs are tailored to fully prepare you outside of what working experience can do.
Associate's Degree Program
A surgical tech associate's degree covers a larger body of work than the certificate programs, although you can complete them in the same time-frame.
You will typically have to cover some topics in math, writing, and other general education as well as completing all the relevant modules that cover surgical tech work.
Associate's degrees are favored by employers. Not only do they increase your employability, the body of work you cover better prepares you for working as a surgical tech and being a valued team member.
Which Is Better: Certification or Associate's Degree?
While both certification and associate's degrees in surgical tech will give you the foundations and knowledge to help you perform your role to the best of your abilities, we recommend an associate's degree over certification.
There is often some confusion about the differences between the two. The main differences and reasons to pursue a degree over certification are:
Higher earning potential
More employment opportunities
Broader study material
Further career potential
Surgical techs with an associate's degree are more likely to earn more than those with just a certification. Making it worth the time and financial investment to completing a degree.
This also opens up more employment opportunities. Some employers will seek candidates with a degree, this narrows the number of applicants which raises the salary and increases your own chances.
The broader study material is also a huge plus to taking a degree. In the medical profession knowledge and experience is vital to continuing improvement in the role and staying ahead of the curve with new technologies and procedures.
All of these benefits set you up for furthering your career in the medical field. Having a degree gives you the foundation to build on a study towards a specific area in the medical field if you want to change roles.
If time is your main concern look into accelerated programs. Or, on the other hand you can choose to complete an associate's degree over a longer time period if you're working and other commitments.
There is plenty of flexibility if you find the right school and the program for you. An associate's degree is a great investment in your future, and one that you start seeing the rewards for as soon as you start working towards it.
Option 3: Surgical Tech Bachelor's Degree
Bachelor's degree in surgical technologies are typically geared towards current professionals who want to return to school to advance their career prospects.
Most surgical techs either have a certificate or associate's degree, so a bachelor's degree is a great way to make yourself stand out among the competition.
Bachelor's level programs tend to incorporate more general core classes along with the technical courses on surgical technologies.
Admission Requirements
All bachelor's programs in surgical technologies require applicants to have at least their high school diploma or GED.
Some programs may require you to have a previously completed associate's degree in the field and some professional experience under your belt.
You most likely will have to send in standardized test scores (ACT or SAT) and take a placement exam.
Most programs require letters of recommendation from teachers or employers.
Courses
The courses in the bachelor's level program teach the basics of surgical techniques along with the more general sciences.
These programs also tend to incorporate public health and health care administration courses. Some course may include:
Epidemiology
Public Health and Policy
Foreign Healthcare Systems
Surgical Techniques and Procedures
Health Care Law and Ethics
Advanced Pathophysiology
Clinical Practicum
Online Surgical Tech Programs
Currently, there do not exist any 100% online surgical tech programs, except in very limited circumstances.
Students just starting out in a program will have to attend in-person classes and in-person clinical rotations.
If you need the flexibility that an online course offers, many surgical tech programs have night and weekend courses.
If you already hold your certificate and are certified as a surgical technologist, some programs may allow you to advance to an associate's degree by taking only online classes.
How to Get Your Surgical Tech License
Some states require surgical techs to register before working as a surgical tech.
Currently, no state has any licensing requirements for surgical techs.
Becoming a certified Surgical Technologist (CST) involves completing a CAAHEP-accredited program in surgical technologies and passing the national Certified Surgical Technologist Exam.
The exam consists of 175 multiple choice questions that cover 3 key areas, perioperative care, ancillary duties, and basic science.
Some employers may require their techs to be certified, and a handful of states require surgical techs to have their certification.
Make sure to check and certification and licensing requirements in your state.
License Renewal
Once you acquire your certification you must renew it every 4 years.
Each candidate is required to complete a total of 60 hours of continuing education credits during each cycle.
As of January 2020, these requirements will change to 30 credits every 2 years.
If you wait too long to renew your certification you may be required to take the certification exam again.
Summary
Let's go over the basic steps on how to become a surgical technologist.
Step 1. Complete a certificate program/associate's degree
The first step is to finish either a certificate program or an associate's degree. While a certificate will qualify you for an entry-level position, employers tend to favor candidates with an associate's degree or higher.
Step 2. Become certified (optional)
After completing your program you have the option of becoming certified in surgical technologies. Becoming certified involves passing a 175-question exam that you must score at least a 70% on. Certification is not legally required to work, though some employers may require candidates to have their certification
Step 3. Find a Job
The majority of surgical techs work in state, local, and private hospitals. A smaller percentage work in the offices of physicians and care centers. Some surgical techs are employed in dental offices.
Step 4. Renew certification
As of 2019, CST renewal requires candidates to complete at least 60 hours of continuing education every 4 years. In January 202, this requirement will shift to 30 hours of continuing education every 2 years.
How Much Does It Cost to Become a Surgical Tech?
A typical certificate program in surgical technologies can cost anywhere between $5,000 to $25,000
A typical associate's level program in a surgical tech school costs about $40,000 – $60,000
A typical bachelor's level program can cost up to $120,000.
How Long Does It Take to Become a Surgical Tech
It takes a little bit over a year to complete a basic certificate program in surgical technologies and 2 years to complete an associate's level program.
Factoring in a few months to study for certification exams and to find a job, you can start working as a surgical tech in as little as a year to year and a half.
Surgical Tech Job Growth, Salary and Outlook
The growth, salary, and outlook for surgical technicians has historically been above the average for all occupations, and the future is also very positive.
According to Bureau of Labor Statistics, the median salary for 2018 was . This is a decent amount above the average for all workers across the US which was $37,040 for the same period.
The salary is expected to carry on increasing above the national average baseline. This is mostly due to the increased demand for technicians as there are always advances in technology and a growing number of patients.
The job outlook is also very positive. It's expected to increase at a rate of between 2016-26. This is much faster than the national average for all occupations which is .
This is due to a number of factors. The main reasons being the increase in the ageing population, along with advances in medical technology and availability of operations.
As you can see from the projected salary and growth numbers, the outlook is very good if you're looking to train as a surgical technician.
Constant advancements in technology mean there are always new and safer ways to carry out surgical procedures, increasing the number of operations being carried out.
While this does often mean more training for career progression, this also comes with added job security and increased opportunities to earn more.
Frequently Asked Questions
Surgical Tech Video Overview