There has never been a better time to be a ​nurse.
Nursing is one of the fastest-growing professions in the medical field and there is much room for upward career mobility.
Pediatric nurses, in particular, are well-trained specialists who excel in the medical care of children.
Nursing is a highly regulated discipline and nurses must meet strict educational and licensing requirements.
Here is a comprehensive guide explaining everything thing you need to know about how to become a pediatric nurse (NP).
Steps to Becoming a Pediatric Nurse
Here is a quick step-by-step explanation of how to become a pediatric nurse.
Step 1: Complete a Degree
The first thing is to complete a formal degree in nursing; either a certificate program, ADN program, or BSN program. These programs will prepare you to sit for any licensing exams.
Step 2: Pass The NCLEX
The next step is to pass the NCLEX and receive our nursing license. The NCLEX-PN is for your LPN license and the NCLEX-RN is for your RN license.
Step 3: Acquire Certification (Optional)
The next step is to acquire any voluntary certifications. Aspiring pediatric nurses are recommended to earn their certified pediatric nurse (*CPN) certification.
Step 4: Maintain License/Certification
Each state and certification agency has rules regarding license/certification renewal. Generally, these involve taking a certain number of continuing education credits and paying any renewal fees.
Pediatric Nurse Education Requirements
In order to work as a pediatric nurse, students normally must have at least a bachelor's degree in nursing.
Most 4-year universities offer Bachelor of Science (BS) programs in nursing.
There are also 2-3 year associate's programs (ADN) in nursing and 1-2 year certificate/diploma programs in nursing.
These shorter track programs are usually for people who are pursuing their LPN certification.
While in school, prospective nurses will learn the basics of medical science and patient care.
Pediatric nurses focus specifically on medical care for children.
After graduation, all nurses must pass the National Council Licensing Exam (NCLEX) to receive their license to practice.
There are two types of NCLEX test, NCLEX-PN for those who are pursuing their licensed practical nurse certification (LPN) and the NCLEX-RN for those who want their RN license.
Only those who pass the latter exam can use the title "registered nurse" (RN).
Although not legally required, several agencies offer nursing certification.
Certification indicates that you are specialized in a certain area of nursing and meet nationally set standards for medical knowledge, patient care, and professionalism.
Certification is not required to work in the field but employers prefer nursing candidates who have their certification. Pediatric nurses usually pursue their Certified Pediatric Nurse (CPN) certification which indicates they are specialized in providing child healthcare.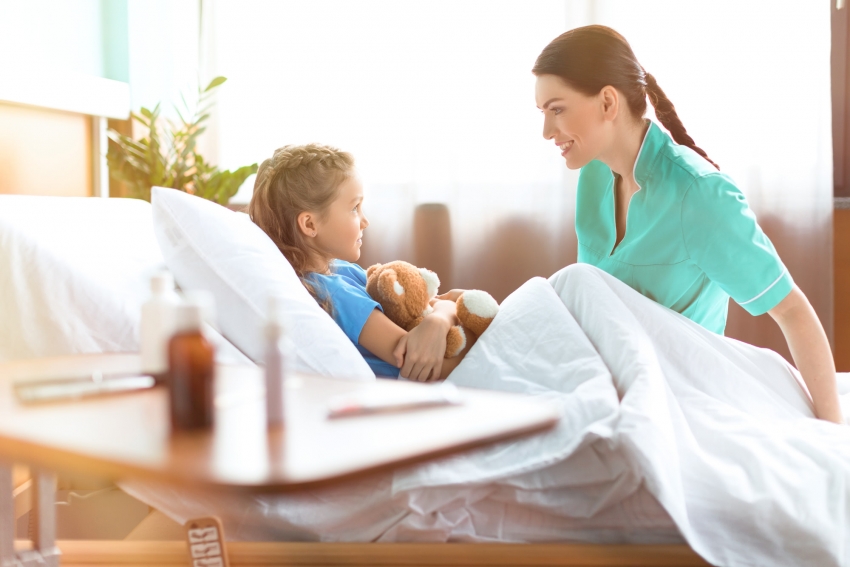 Accreditation
The US Department of Education recognizes 2 national bodies that accredit nursing programs: The Accreditation Commission for Education in Nursing (ACEN) and the Commission of Collegiate Nursing Education (CCNE).
The ACEN accredits nursing programs at all levels of education including post-masters and nurse practitioner education.
The CCNE accredits nursing programs at the bachelor's, master's, and postgraduate levels. Individual programs may also be approved by a state nursing board.
Students are required to graduate from an accredited or state-approved program to sit for the NCLEX exam.
The Dept. of Education also recognizes the following accrediting agencies for nursing specialization programs: The Council on Accreditation of Nurse Anesthesia Educational Programs (COA) and the Accreditation Commission for Midwifery Education (ACME).
Training Information & Types of Pediatric Nurse Degrees
There are 3 major degree paths that aspiring pediatric nurses can pursue.
These programs are
A Bachelor of Science in Nursing (BSN)
An Associate Degree in Nursing (ADN)
A licensed practical nursing diploma program
Bachelor's programs usually take 4 years to complete and prepare students to receive their RN license.
Associate's and diploma programs are normally geared towards students getting their LPN license.
There is also the option of pursuing a Master of Nursing (MSN) degree and a Doctorate of Nursing Practice (DNP) degree.
These two post-graduate degrees are usually reserved for practicing nurses who are working towards becoming a licensed nurse practitioner (NP).
What You'll Study
Nursing programs are usually very intensive and incorporate education in the medical sciences, patient care, nursing professionalism and career development, hospital management, and practical experience in the form of clinical rotations.
Pediatric nurses specifically focus on medical care for children and teens. As such, those who wish to be pediatric nurses usually take courses focusing on child development and do clinical rotations in pediatric wards at hospitals.
Nurses usually take a basic battery of science courses, including biology, chemistry, biochemistry, math, and (maybe) physics.
The core of the curricula consists of nursing-oriented courses that focus on anatomy/physiology, medical terminology, proper nursing protocol and procedure, and patient care.
Nursing programs usually incorporate courses focused on professional development and hospital/healthcare management.
Nursing programs also heavily involve clinical rotations. Those in nursing programs will receive extensive practical instruction working in clinical environments.
Very often, nursing students go through several clinical rotations that each focus on a different area of medical care. Nursing students usually complete rotations in the ER, ICU, pediatric wards, psych wards, and more.
That way they get a well-rounded experience on the different duties nurses are responsible for.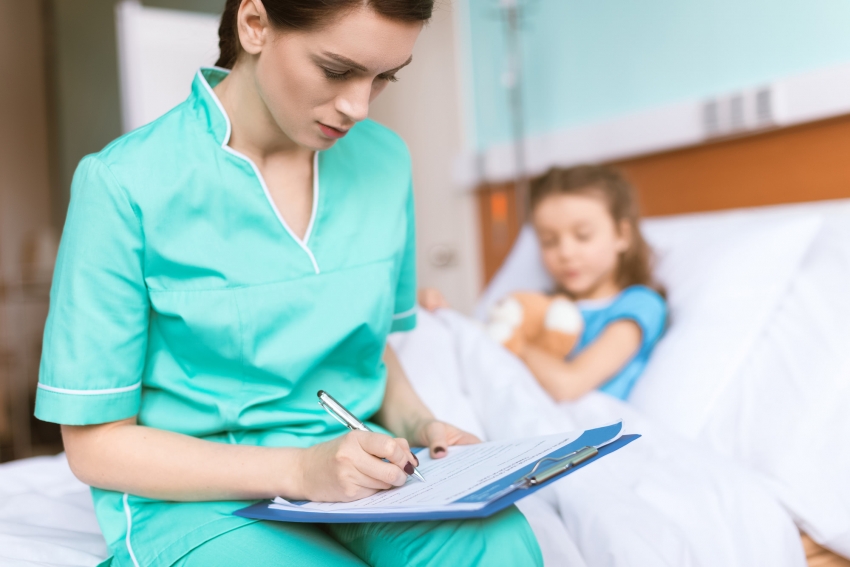 How Long Does it Take to Become a Pediatric Nurse?
It depends on the program you pursue. A normal BSN takes about 4-years to complete, while an ADN or certificate program takes 3 years and 1-2 years respectively. Factoring in a few months to study for license exams and acquire any certifications, you can start working as an LPN in as little as 2 years. Usually, it takes 4-5 years to become an RN.
How Much Does it Cost to Become a Pediatric Nurse?
The tuition cost for a 4-year BSN program can vary between $40,000-$100,000 per year. BSN programs offered at community colleges usually cost significantly less. In general, institutions charge cheaper tuition rates for in-state residents compared to out-of-state residents. The average ADN in nursing costs around $31,000. Conversely, certificate/diploma programs can cost anywhere between $10,000-$15,000.
Nursing students must also consider any costs from housing, books, medical equipment, and any fees for licensure and certification.
Option 1: Pediatric Nurse Bachelor's Degree (BSN)
The "traditional" option for becoming a pediatric nurse is to complete a 4-year BSN program at an accredited university.
Unlike many other professions, there is a relatively clear-cut path from nursing education to a nursing career and bachelor's level programs train students for entry-level positions in the field.
Most BSN programs are very intensive and the curricula consist of courses in the sciences, medical knowledge, patient care, and hospital management.
Any BSN program worth its salt will also include clinical rotations so students get relevant work experience.
In order to apply for state licensure, nurses must complete a minimum amount of hours working in a clinical environment.
4-year BSN programs are usually designed to prepare students to take the NCLEX-RN exam and earn their RN designation. As such, the level of course materials is usually higher than that found in associates or diploma programs for nursing.
Pediatric nurses, in particular, should take courses focusing on childcare and pediatric development.
Admission Requirements
Most BSN programs require students to have at least a high school diploma/GED and have completed certain prerequisites in science and math. Most programs will also require you to send in letters of recommendation and standardized test scores (ACT or SAT). usually, when accepted to a program, you must pass a criminal background check, drug screening, and physical examination.
Courses
A hypothetical course load for a semester of a BSN program might look like:
Concepts of Professional Nursing
Health Promotion and Education
Public Health
Anatomy/Physiology
Medical Terminology
Evidence-Based Practice for Nurses
Generally, BSN programs require fewer core requirements than other programs but students must still usually complete courses in English, psychology, math, and the humanities.
Option 2: Pediatric Nurse Associate's Degree (ADN)
There is also the option of attending a shorter 2-3 year Associate Degree in Nursing (ADN) program. ADN programs are usually geared towards those working towards their LPN certification but associate's program exist for those pursuing their RN license. Associate's degree programs cover much of the same ground in nursing fundamentals as a bachelor's degree. Associate's degrees are meant to prepare students for entry-level positions in the nursing field. Many nurses start their careers with an ADN and then take advantage of employer tuition reimbursements to pursue their BSN or MSN in the future.
An ADN is also a good option for those who hold a degree in an allied health field (such as a PTA or Medical Technologist) who are seeking a career transition and want a quicker way to start working as a nurse. Generally, associate's programs involve clinical rotations.
Admission Requirements
Most ADN programs require students to have a high school diploma/GED, maintain a certain GPA in high school, and send in standardized test scores (ACT or SAT). Some ADN programs have prerequisites in math and science and some will require you to pass a background check and drug screening upon acceptance.
Courses
A potential course load for an ADN program might include some of the following courses:
Anatomy/Physiology
Perspective in Nursing
Nursing Practice
Health and Illness
Public and Population Health
Patient Care
Associate's programs also tend to incorporate core college requirements like math, English, psychology, and humanities.
Option 3: Nursing Certificate/Diploma Program
There is also the option of pursuing a 1-2 year certificate/diploma program in nursing. Certificate programs are usually meant for those who are working towards their LPN license, the basic license required to legally work as a nurse. Certificate programs are focused and intensive as much knowledge needs to be packed into a 1-2 year program. Graduating from a certificate program will prepare you to sit for the NCLEX-PN exam which will earn you your LPN license.
Admission Requirements
Certificate programs usually require applicants to have at least a high school diploma/GED and may have prerequisite requirements in biology, chemistry, and math. You may also be required to send in standardized test scores (SAT or ACT) and provide letters of recommendation from teachers or employers.
Courses
A hypothetical course load for a nursing certificate program might look like:
Nursing 100
Biology 101 and Lab
Anatomy/Physiology
Nursing Practice
Clinical Rotations
Option 4: Graduate Degrees (MSN/DNP)
Lastly, there is the option of pursuing graduate-level education. The two main types of graduate education pursued by nursing students is either a Master of Science in Nursing (MSN) or a Doctorate in Nursing Practice (DNP). MSN degrees are normally pursued by working nurses who want to specialize in some area or work in medical research while DNP programs are pursued by those who wish to become a nurse practitioner (NP).
Admission Requirements
Most graduate-level programs in nursing require applicants to have at least a bachelor's degree in the subject and most likely require proof of employment in the field. Graduate-level programs will likely require you to send in GRE test scores and provide a personal statement of your goals as a nurse. Most graduate programs are focused on a specific area of nursing, such as pediatrics or gerontology.
Courses
A course load in a graduate level program for nursing might look like:
Medical Statistics
Nursing and Public Policy
Global Health and Society
Advanced Nursing Practice
Psychiatric Nursing
Pediatric Nursing
Online Pediatric Nurse Programs
There are several online nursing programs at the diploma, associate's, bachelor's, and graduate level.
These courses mix online instruction with in-person clinical practice. To be clear, you cannot be a nurse solely by completing a degree. In order to qualify to take the NCLEX, you must have a certain number of documented hours working under the supervision of a licensed RN.
How to Get Your Pediatric Nurse License
All nurses are required to have a license to practice. The major licensing exam taken by nursing students nationwide is the NCLEX exam, which has versions for LPN licensing and RN licensing. The NCLEXis a computer-administered exam that consists of 8 key areas of nursing knowledge and practice, including basic care, health promotion, psychosocial integrity, and others.
The NCLEX-PN is for those pursuing their LPN certification and the NCLEX-RN is for those who are pursuing their RN certification. Each exam contains a minimum of 75 questions that are multiple-choice, fill in the blank, and drag and drop.
Several organizations also offer voluntary certification for nurses who want to specialize in a particular field. Certification is usually not required to work, but employers prefer certified job candidates.
License Renewal
Each state has slightly different license renewal requirements, but the majority require you to have completed a certain number of hours of continuing education credits and pay a renewal fee. If you wait too long you may be required to take any state-licensing exams again.
Pediatric Nurse Job Outlook & Growth
According to the US Bureau of Labor Statistics the annual median salary for RNs in 2018 was $71,730 ($34/48/hour).
The top 10% of earners made more than $106,530 while the lowest 10% of earners made less than $50,800. Those employed in governmental services saw the highest average salaries at $78,390 while those employed in educational services saw the lowest average salaries at $61,850.
The nursing profession is expected to grow by 12% from 2018-2028, largely due to an aging boomer population that will require medical care. Growth is expected in all nursing industries, including hospitals, in-patients centers, out-patient centers, long-term residential facilities, and in-home healthcare.
Associations, Groups & Resources for Pediatric Nurses
Pediatric Nurse Video Overview