Also known as a medical and health services manager, or healthcare executive, this occupation is challenging and rewarding.
If you decide to pursue such a career, you will find yourself playing a key role as a respected member of a medical team.
This is a rapidly expanding field with many opportunities. As is the case with most healthcare professions, there is considerable job security because the demand is expected to continue growing.
If you have a passion for serving people by helping them get the medical care they need, a career as a healthcare administrator can be extremely fulfilling.
What Does a Healthcare Administrator Do?
These professionals take the lead in developing and implementing policies and procedures to ensure the efficient operation of a health-care facility. Some manage an entire organization, while others are responsible for a single department such as nursing, surgery, or physical therapy.
The position involves business and healthcare functions. Healthcare administrators oversee finances and bookkeeping, as well as personnel. Working with the staff, they set goals and draft plans.
These managers make sure the organization is compliant with rules and protocols related to patient services, efficiency, quality assurance, and public relations. Policies and procedures must be periodically updated or revised, to remain compliant with changing healthcare laws and be current with new technologies.
Healthcare organizations, especially long-term care facilities, are subject to exacting and complicated government regulations. Administrators must keep themselves abreast of rule changes, while fostering a good working relationship with federal and state agencies.
Healthcare administrators serve as a contact with other departments and offices, hospitals, and government agencies to coordinate services. They represent the organization at meetings with company officials, investors, and government regulators.
The most important obligation of a healthcare administrator is to guarantee that patients are receiving quality care. The entire staff needs to be committed to patient satisfaction. This takes a strong leader who organizes, teaches, encourages, and supports employees.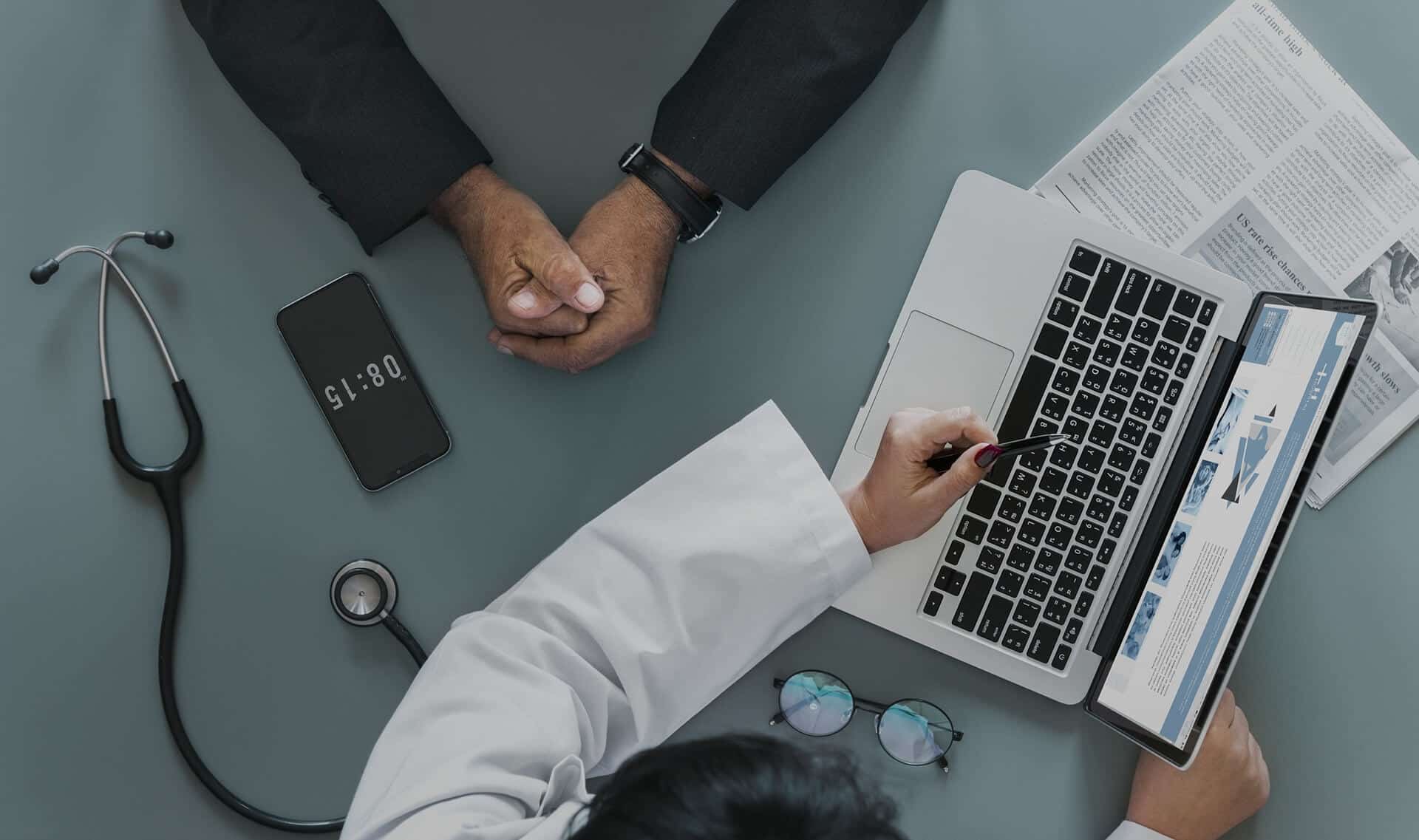 Healthcare Administrator Duties
Desirable Skills & Qualities of a Healthcare Administrator
This profession requires a wide range of attributes, from working with other people to handling administrative duties.
You must be a good multi-tasker who can juggle multiple functions and responsibilities. It is mandatory for healthcare administrators to be professional and ethical at all times.
These managers know how to effectively organize their own work, as well as that of those they supervise. They are meticulous about the smallest details, because all facets of an organization's operations affect financial stability and the quality of patient care.
Superb analytical skills are necessary to understand the complexity of the occupation.
From financial management to organizational planning, you are responsible for assessing myriad factors that affect outcomes.
Being astute at business is not nearly enough. You also must be a "people person" who can relate to a diverse set of individual backgrounds and personalities. Being generally interested in the lives and interests of those you supervise helps you form meaningful and mutually respectful relationships.
This leads to the formation of a cohesive and supportive team.
You must be an excellent communicator and a good listener who demonstrates patience and shows compassion.
An ability to anticipate future developments helps healthcare administrators craft plans and goals. They must have a vision of the organization's growth and evolution, and a commitment to carrying out the steps necessary to make it happen. Interpersonal and organizational tools are needed to bring everyone on board.
Attaining goals requires the understanding, cooperation, and active participation of all staff members.
As the top manager in an office, you have to be accountable not only to your job duties but also to all those you work with and supervise. Dependability and consistency are critical.
Your associates and employees need to know that they can rely on you. This occupation is a leadership position, which means setting standards and expectations for others to follow.
Healthcare Administrator Work Environment
The settings for healthcare administrators are varied.
Many work in doctor's offices and medical clinics that may have one or more physicians, and perhaps a number of nurses and other staff members.
Others manage hospital departments or long-term care facilities like nursing homes.
Additional positions are available at community organizations; local, state, and federal government agencies; insurance companies; health-maintenance organizations; and medical equipment suppliers.
A Typical Day on The Job
A typical day on the job can be hectic and stressful.
The wide array of responsibilities keeps healthcare administrators busy.
They must balance many obligations, such as keeping records and doing other paperwork, supervising employees, attending meetings, and assisting patients.
Many of these managers not only work full time, but put in more than 40 hours per week.
Some have evening or weekend schedules, and others are on call to respond to emergencies.
They may be needed at any time because many facilities, like hospitals and nursing homes, are open 24 hours a day.
Healthcare Administrator Education Requirements
At a minimum, a prospective healthcare administrator needs to obtain a bachelor's degree.
A master's degree may qualify you for a position at a larger and more prestigious facility that offers a higher salary and better benefits.
Choosing a concentrated area of study not only aids in the job search, but also helps you find employment that aligns with your talents and interests.
Among the specialization degree options are health unit coordinator, health information management, health services administration, medical office management, and health informatics.
Physical therapists may become physical therapy directors, and a registered nurse might advance to a position managing a nursing home or nursing department.
Those seeking to become this kind of manager usually have some administrative or clinical experience at a hospital or other medical facility.
Most employers require on-the-job training.
Accreditation
In determining which post-secondary school to attend, consider only those that are accredited for educating future healthcare administrators.
Colleges earn accreditation either from regional agencies, the Commission on Accreditation for Health Informatics and Information Management Education, or the Commission on Accreditation of Healthcare Management Education.
The agencies verify that a school's degree program complies with strict standards, and that the college will transfer all your credits to another institution if you decide to get a more advanced degree.
Accreditation will also aid in your job search. Employers consider applicants with degrees from accredited institutions more qualified.
What You'll Study
The classes you take to earn a degree in this field depend upon your area of interest.
For instance, many students take classes in business as well as healthcare.
Core courses for everyone cover medical terminology, human resources management, healthcare finance and accounting, epidemiology, and healthcare management.
If you wish to specialize in health information management and informatics, expect to study the following:
Healthcare Vocabularies
Healthcare Systems and Health
Data Systems
Healthcare Coding
Revenue Management
Healthcare Computer Systems and Electronic Health Records
Organizational Theory
Quality Assurance
Law, Policy, and Ethics
Quantitative Methods
Enterprise Systems
Master's degree classes in this specialization include Data Analysis, Information Governance, Health Information Systems, and Organizational and Patient Information Privacy and Security. A capstone project is also required, to provide practical experience.
Among the courses for those focusing on healthcare office management are:
Electronic Health Records and Client Data Management
Insurance Billing and Reimbursement
Business Principles and Practices
Ethics and Laws
Principles of Management and Human Resources
Math, Accounting, and Finance
Critical Thinking and Application
Classes for health services administration students include:
Health Services Systems
Leadership and Management for Healthcare Professionals
Ethics and Conflict Resolution
Cultural Competency
Quality Assurance and Evidence-Based Healthcare Service
IT for Healthcare
Financial Management
Organizational Behavior and Human Resources
Global Healthcare Systems and Policy
Healthcare Quality Management
Training Information & Types of Healthcare Administrator Degrees
It is recommended to acquire a bachelor's degree if you would like to become a health administrator.
You can also pursue a master's degree if you wish to increase your chances of finding an employment.
You can tailor your education to match your interests at the master's degree level.
A master of health administration or healthcare administration (MHA) is the primary program for those wishing to manage a hospital or other medical facility.
Students learn about health policy, healthcare economics and marketing, organizational behavior, management in healthcare organizations, human resources management, financial analysis and application, population health, management of information systems, statistical formulation, and strategy implementation.
Other relevant advanced degree programs for prospective healthcare administrators include master's in business management, public administration, science healthcare management, public health, public service, and science in public health.
Option 1: Bachelor's Degree in Healthcare Management
The main requirement is a bachelor's degree in either healthcare management or a closely related field like health management, nursing, public health administration, or business administration.
For health administration students, one of the early decisions is to determine whether to pursue a bachelor of arts or a bachelor of science degree.
The BA involves more liberal arts and business classes, while the BS focuses more on medicine and science.
Admission Requirements
Colleges have differing policies, but some requirements are common. Among the typical mandates are a high school diploma or a GED, a minimum high school grade-point average, and acceptable scores on standardized tests.
Some institutions stipulate that you must have taken a certain number of high school classes in English, math, and science.
You will have to submit school transcripts from high school and any other educational institution you have attended.
Courses
The classes healthcare management students take vary according to an individual's specialization and concentration. However, everyone must complete certain core courses that cover business and healthcare topics.
It is important to decide early on which type of career you desire. The kind of healthcare facility you wish to manage is a key factor in determining your coursework.
Commonly required core courses teach health care organizations, ethics and policies, human resources, employment and medical law, accounting, care management, medical recordkeeping and information systems, marketing and communication, human resource management, and healthcare administration.
Degree programs also feature elective classes spanning the spectrum from business to healthcare. Among the possible classes you will take are those covering finance, budgeting, medical terminology, hospital organization, health economics, strategic planning, regulations, quality management, healthcare marketing, information technology, and operations management.
Your coursework will depend upon your area of concentration.. Some colleges offer curricula designed for specializations in health services administration, health information and records management, health informatics, emergency management, long-term care, finance and insurance, and policy development.
Option 2: Master's Degree in Healthcare Management / Administration
Though many employers do not require a master's, others limit their recruitment to applicants who hold graduate degrees.
Your prospects will be greatly expanded if you commit the time and money necessary to extend your studies beyond the baccalaureate level.
Most master's programs consist of two or three years in the classroom.
Upon successfully completing the coursework, you will likely have to work in a hospital or other healthcare facility for as long as a year.
Admission Requirements
To win acceptance into a master's program, you must have earned a bachelor's degree with a minimum grade-point average.
You will probably be asked to submit letters of recommendation, a resume, and a personal statement of purpose.
Most colleges mandate that incoming master's students have some practical experience in health-care facilities.
This requirement is sometimes waived for online students.
Courses
Unlike the wide-ranging curriculum for baccalaureate students, master's programs tend to focus exclusively on business and management.
Classes address the fundamentals of healthcare administration, as they pertain to hospitals and other types of facilities. Core courses at most colleges cover subjects such as healthcare economics, healthcare marketing, human resource management, and information systems management.
Additional classes are concerned with healthcare organization may be concerned with organizational behavior, communications, operations assessment, leadership, statistical analysis and application, financial analysis and management, and strategy planning and implementation, and public health.
Online Healthcare Administrator Programs
Numerous colleges offer online degree programs in health management, though some require at least one campus visit.
You also may have to show up for certain classes and on-site work experiences.
Remote learning offers the opportunity to study where and when you want, which provides flexibility for those with jobs and other obligations. It also costs less, because you do not have to drive or pay for another kind of transportation.
Online education is not the solitary activity it may appear to be. There are many opportunities to connect and work with other students. Because classes are generally smaller, you may actually get more individual time with teachers than if you were physically present.
Online programs feature the same courses and requirements as traditional education. Few employers care which way you earn your degree. The acceptance of remote learning is growing, as the number of institutions offering such programs continues to increase.
How to Get Your Healthcare Administrator License
No license is required for a healthcare administrator at a clinic, hospital, or most other settings.
However, all states mandate licensure for nursing home administrators.
States have different rules and procedures, some of which entail several steps. In some cases, an applicant must have a bachelor's degree, successfully complete a training program, and pass a national licensing exam.
It is sometimes necessary to earn an acceptable grade on a written test, or demonstrate that you have obtained on-the-job experience in a long-term, assisted-care facility.
For information about each state's requirements, visit the website of the National Association of Long Term Care Administrator Boards.
Summary
No training or licensing is necessary to become a healthcare administrator. Most who pursue degrees in the field obtain some work experience at health-care facilities, though it is not a prerequisite. Here the basic steps to take:
Earn a high school diploma or GED
Obtain an associate's or bachelor's degree in healthcare administration, or a related business or healthcare field, at an accredited postsecondary institution
Concentrate your studies on a selected area of interest
Consider working for a master's degree
Obtain state licensure if you wish to become a nursing home administrator
Research employment opportunities and submit applications
Healthcare Administrator Job Growth, Salary & Outlook
The U.S. Bureau of Labor Statistics predicted that employment of medical and health services managers would increase 20 percent between 2016 and 2026 nationwide.
The agency noted that this growth rate is 20 percent more than that of the average profession.
The improvement in job opportunities is largely due to an expanding population of seniors.
In addition, the number of people covered by health insurance is rising due to expanded government programs like Medicaid.
This means escalating demand for doctors and other healthcare professionals. Also needed are additional healthcare facilities, which must have qualified administrators.
The job growth is particularly high at doctor's offices, where many services previously performed at hospitals now take place.
There are more and more physician group practices.
Another change in the industry is the use of electronic health records, which requires managers who are proficient in health information technology and informatics systems.
Employment prospects are the most promising for master's degree holders with IT knowledge, according to the BLS.
The median annual salary for a healthcare administrator is much higher than that of the average American. Your earnings could reach into six-digit territory.
How Much Does It Cost to Become a Healthcare Administrator
The average annual tuition for a bachelor's degree in healthcare administration at a public postsecondary school in the United States in the fall of 2018 was a bit more than $9,100 for in-state students and about $23,000 for out-of-state residents.
Dozens of colleges offer online bachelor's programs for less than $11,000 per year; some for as little as $3,500.
Many institutions have master's programs with tuition rates below $11,800 per year, and a few charge less than $2,000.
How Long Does It Take to Become a Healthcare Administrator
The road to obtaining employment in this profession is not long, compared with other occupations offering comparable salaries.
The process takes only eight years of formal education, though many students enroll for an additional two years or longer to secure a master's degree.
A high school diploma, which takes four years
A four-year bachelor's degree in healthcare administration
An optional master's degree, involving a curriculum that last two years or longer
Associations, Groups & Resources for Healthcare Administrators
A number of organizations provide professional support, foster career development, and help healthcare administration students and practitioners network with one another.
The leading associations are:
Frequently Asked Questions