There has never been a better time to pursue a career as a dental hygienist.
Dental hygienists are dental professionals trained in the proper cleaning and care of teeth.
As a dental hygienist, you will be the first line of defense in the battle against cavities and tooth decay.
It is estimated that 9 in 10 working-age Americans either currently have or have had at least one cavity in their lives.
As proper dental care becomes important and more common, there is a growing need for professional hygienists who can assist and direct people towards good oral health.
What is a Dental Hygienist?
Before we start talking about how to become a dental hygienist we have to inform you that dental hygienists do not just clean patients' teeth but perform a lot of other tasks.
They apply preventative oral care and look for signs of oral diseases, they also inform patients on how to keep their teeth healthy and preserve good smiles.
The daily duties of a dental hygienist are:

Desirable Skills of a Dental Hygienist
Communication Skills
Excellent communication skills are required for dental hygienists. They are working with patients every day so they need to be able to educate them about oral health in an efficient manner. They also need to make them feel comfortable before starting the cleansing process.
Attention to Detail
Dental hygienists need to pay great attention to detail, in order to do an in depth cleansing and detect problems to the teeth of the patient. Oral cavity is a really small space and if they don't pay enough attention it is really easy to miss spots.
Physical Stamina
Finally, dental hygienists need to have physical stamina. The majority of the tasks they perform daily are physical, like bending over a patient to perform a cleansing or taking x-rays, so if they need to have physical stamina to be able to perform their job duties effectively.
The average salary of a dental hygienists is .
Dental Hygienist's Work Environment
Dental hygienists are required to wear safety goggles, surgery masks, and gloves to protect themselves and patients from exposure to infectious diseases.
They must also take care to protect themselves and patients from radiation. They also give advice to patients about proper dental hygiene and make dietary recommendations.
More than half of dental hygienists work part-time. Many dentists only hire hygienists for a few days a week so many dental hygienists work for more than one doctor. The vast majority of dental hygienists are employed at dentist offices, though a handful works for physicians and the government.
Becoming a Dental Hygienist
Aspiring dental hygienists should take basic biology that covers topics like: microbiology, physiology, anatomy and cellular structure. Having a basic knowledge of these topics will help them with their coursework when in college. Those who want to take it a step further can take advanced placement biology that can also count as a college credit.
Chemistry is a prerequisite for many dental hygienist programs. By taking chemistry classes students will learn stuff like: the periodic table, how to write a chemical formula, atomic structures, and how to balance chemical equations. All that knowledge will help them get prepared for college. Some schools offer advanced placement chemistry courses that can also count as a college credit.
At all patient care professions communication is a basic skill a professional should possess. It makes sense to start cultivating these skills from high school. Courses like debate, rhetoric and speech will help you with this for sure.
Dental Hygienist Education Requirements
Dental hygienists typically need an associate's degree in dental hygiene to work. There are bachelor's and master's programs in dental hygiene but they are less common. A bachelor's or master's in dental hygiene are only required if one wants to perform research, teach, or engage in clinical practice in public health programs.
Dental hygienist programs are found in technical colleges, community colleges, and traditional 4-year universities.
It normally takes around 3 years to complete a dental hygienist associate's degree and your education involves clinical, lab, and classroom instruction.
Dental hygienists study a wide range of subjects including anatomy/physiology, nutrition, radiography, pathology, medical ethics, and patient/healthcare management.
Accreditation
More than 300 dental hygienist programs in the US are accredited by the American Dental Association's (ADA) Commission on Dental Accreditation (CODA).
CODA is the sole authority in the US that is responsible for the accreditation of dental hygienist education programs.
CODA develops standards that hygienist programs must follow and update these standards in light of advancements in the field.
The point of CODA is to supply nationally recognized standards and procedures for training new dental hygienists.
Almost every state requires candidates for dental hygienist licensure to hold a degree from a CODA accredited program.
What You'll Study
Dental hygienists take a number of courses focused on learning and practicing dental hygienist techniques.
The instruction is partly in class and partly practical application.
A typical program requires around 60 hours of coursework.
Students will take courses on advanced oro-facial anatomy and physiology, basic radiologic techniques, sanitation and hygienic practices, pharmacology, oral pathology, anesthesia, nutrition, and public health.
These programs often include courses in the liberal arts, such as English, speech, sociology, and psychology.
Many dental hygienists choose to continue their studies in areas like education, business, public health, and the basic sciences, and other medical fields.
Dental hygienists programs also involve practical training working in the dental field. This practical training is in the form of supervised patient care experiences.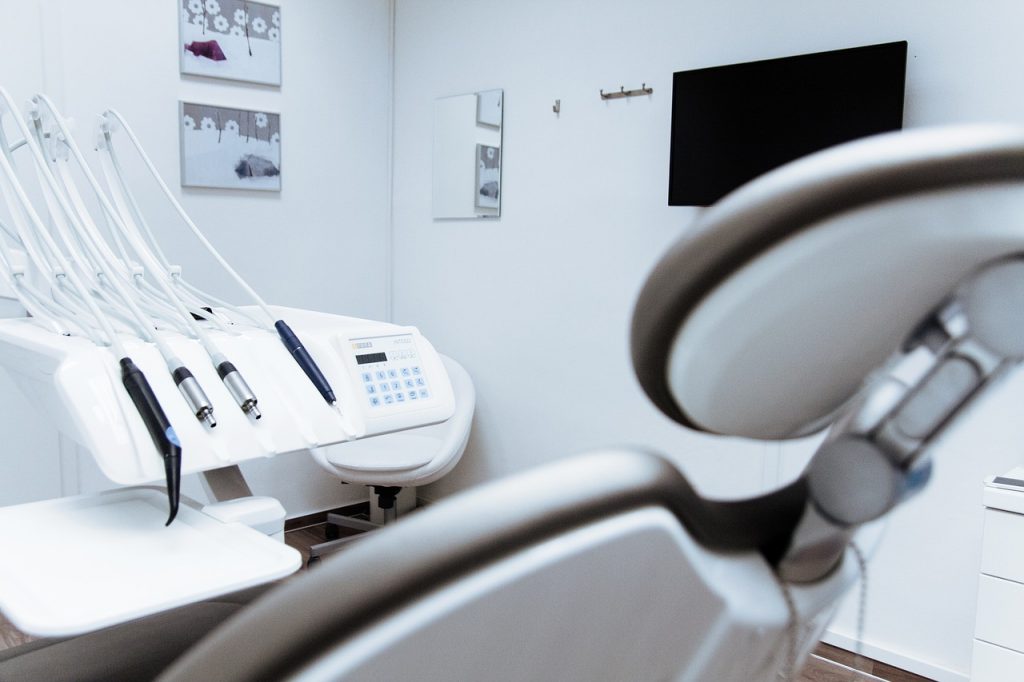 Types of Dental Hygienist Degrees & Training Information
The specific dental hygienist degree determines what roles students are qualified to perform.
The most basic education option is to complete an associate's degree in dental hygiene.
An associate's degree in dental hygiene qualifies you to work in a dentist's office.
Bachelor's degrees and master's degrees in dental hygiene exist but are much rarer.
Bachelor's and master's degree are required for more advanced practice, government research, and public health/education programs.
Option 1: Dental Hygienist Associate's Degree
An associate's degree in dental hygiene is required to work as a hygienist in a dentist's office.
A typical associate's level program takes around 3 years to complete.
During an associate's level program, students will learn the basic techniques and knowledge required to work in the field.
The training includes practical lessons on how to clean teeth, how to take x-ray images, and how to treat dental conditions. The academic portion focuses on the anatomy/physiology of the mouth, face, and neck, as well as the pharmacology behind the various drugs used in a dentist's office.
Many dental hygienist programs offer classes in business and medical administration, as well as courses in medical ethics.
After completing their studies, graduates are required to take any licensing exams to become a registered dental hygienist (RHD) and can compete for jobs in the field.
Admission Requirements
Most associate's level dental hygienist programs only require applicants to have a high school diploma or GED.
A handful of programs may require you to take prerequisite undergraduate courses such as anatomy, microbiology, and organic chemistry.
In general, admissions favor applicants who have completed at least one year of college.
Students may also be required to take the ACCUPLACER Dental Hygiene examination to determine which courses they will be placed into.
Courses
Courses in associate-level dental hygienist programs are geared toward providing students with clinical experience, theoretical knowledge, and education foundations necessary to work in the field.
The classes in these programs tend to be rather focused and clinical-intensive.
A hypothetical curriculum for a semester of a program might look like:
Dental radiography
Dental anatomy
Oral disease pathology
Clinical dental hygiene
Oral disease prevention
Option 2: Dental Hygienist Bachelor's Degree
As the field becomes more competitive, more students are opting to get a 4-year bachelor's degree in dental hygiene.
A bachelor's degree in dental hygiene will give students a leg up on the competition in the job market and also trains them in skills necessary for more advanced dental hygienist application, such as research and public health/education programs.
Many of the courses covered in a bachelor's level dental hygienist program are the same as those in an associate's program but to a greater degree of sophistication and complexity.
Students in bachelor's programs learn not only how to provide basic dental care but also special techniques and care plans for specific segments of the population (children, seniors, adults, men, women, etc).
Admission Requirements
The admission requirements for a 4-year bachelor's program in dental hygiene is largely the same as that of any 4-year university.
You will be required to send in high school transcripts, standardized test scores, and letters of recommendation.
Many students who already have an associate's degree elect to use those credits towards a bachelor's degree.
It may be a smart idea to pick up an associate's degree at a two-year program and then transfer your credits to a bachelor's program.
Courses
A hypothetical course load during a semester of a bachelor's program in dental hygiene might look like:
Oral biochemistry
Dental Specialties
Principles of pharmacology
Periodontal disease
Preventative dental care
Option 3: Dental Hygienist Master's Degree
According to the American Dental Hygienist Association, 21 accredited dental hygienist master's programs exist in 15 states.
These programs are much less common than associate's and bachelor's programs, though they open up new career paths for graduates.
It normally takes about 1 year to complete a dental hygienist master's program.
Graduates of master's programs go on to serve as academic faculty, researchers, and leading figures of dental health and education programs.
Admission Requirements
Master's programs typically require applicants to have previously completed a dental hygienist program and a bachelor's degree.
Most graduate schools also require students to take the General Requisite Exam and to provide letters of recommendation from faculty or employers.
Courses
Courses in a master's program are focused on advanced training, clinical practices, and research methods. Along with coursework, students are required to pass a comprehensive final exam before being awarded their graduate degree.
Course in a master's level program could be:
Systematic research writing
Dental hygiene theory and science
Systematic dental conditions
Geriatric dental issues
Pediatric dental health
Many master's programs involve a research component as well.
Online Dental Hygienist Programs
Luckily, many schools have begun offering online associate's level program for dental hygienists.
Most of these programs do have some lab and practical requirements which must be completed on campus or through an internship.
The lab and internship experience is the most important part of an online program as employers typically look for professional experience when hiring.
Several schools also offer online bachelor's and master's level programs as well.
Like an associate's degree, these programs have practical requirements that must be completed on campus or at an internship or job.
How to Get Your Dental Hygienist License / Certification
All dental hygienists are required by their state to be licensed.
A dental hygienist license is earned by passing the written National Board Dental Hygiene Examination (NBDHE) and complete a clinical board examination at the state level.
The NBDHE consists of 350 multiple choice questions divided into 2 groups, component A which encompasses the knowledge portion and component B which involves 12 to 15 hygiene patient cases.
After passing the exam you will be licensed to work as a dental hygienist.
License Renewal
Most states require dental hygienists to periodically renew their licenses to maintain certification.
The exact specifics surrounding license renewals differs from state to state, but most states require renewal once every 2 years.
Most states require dental hygienists to complete continuing education credits to renew their license.
The Easiest Way to Become a Dental Hygienist
Let's go over the basic steps on how to become a dental hygienist.
Step 1. Complete an Associate's Program
The first step is to complete an associate's level program. These programs can be found at community colleges, technical colleges, dental schools, and universities. Most of the time these programs can be completed in 3 years and involve a substantial amount of clinical practice.
Step 2. Obtain Your License
The next step is to obtain your dental hygienist license. To obtain your license you must pass the NBDHE and pay any fees.
Step 3. Find a Job
The next step is to find a job in the field. An associate's degree will qualify you to work in most dentist offices.
Employers tend to favor applicants who have some professional experience in the field via internships and college practical hours.
Step 4 (Optional). Consider a Bachelor's or Master's Degree for Career Advancement
With an associate's degree, you can work in a dentist's office but not much else. If you want to advance further in the field and work in research or public health programs you will need to obtain your bachelor's or master's degree in the subject. An advanced degree opens up a number of potential paths for career advancement.
Dental Hygienist Job Growth, Salary & Outlook
Dental hygienists face excellent starting salaries and relative career stability.
The median annual salary for dental hygienists in 2018 was $74,820 ($35.97/hour) and the field has a projected growth of 20% from 2016-2026, much faster than average.
How Much Does It Cost to Become a Dental Hygienist
The average total cost of an instate dental hygienist associate's program is $22,692. The average cost for a bachelor's degree is $36,382 and a master's degree is $30,421.
How Long Does It Take to Become a Dental Hygienist
It takes around 3 years to complete an associate's program in dental hygiene.
It takes 4 years to complete a bachelor's degree
It takes 1-2 years to finish a master's degree, depending on if you study full-time or part-time.
Completing an associate's program and passing a NBDHE exam (350 multiple choice questions) is sufficient to become a dental hygienist.
Associations, Groups & Resources for Dental Hygienists
Frequently Asked Questions
Dental Hygienist Training Video